Double Basket Commercial Deep Fat Fryer Induction 27 Liter
If you are looking for a commercial deep fat fryer, this model can suit your cooking style. It is our 27 Litre deep fat fryer with practical draining taps, perfect for cafes bars, food trucks, traveling food stalls, and fast-food restaurants. It's compact, efficient, and easy to clean so you can offer a large range of fried goodies.
Description
As an innovative induction cooker manufacturer, we recommend a smart commercial induction fryer to meet your heavy-duty demand.
The multi-channel menu design and Integrated temperature control processor make this fryer stand out.
Features & Advantages:
They can guarantee excellent performance for this commercial induction fryer, such as Germany "Infineon" IGBT, pure copper induction coil, industrial-grade aerospace terminals.
A temperature control processor with integrated can directly receive the signal from the probe and transfer instruction to the heating module, which improves the precision temperature.
You can preset and store a set of times and temperatures in each independent channel for the next direct cooking. These provide easy access to the interior to control the oil drain.
The dual fan with an air vent provides efficient heat dissipation to prevent self-heating of internal induction components and extend the span of life of this commercial fryer.
When the fried food reaches golden brown, hang the basket up the cross-hanger, which will allow more grease to flow into the fryer tank and increase the use frequency of fried oil.
They can provide a high range from 170mm to 210mm for adjustment, to maximize the convenience of operation for more people.
The built-in removable basin receives the oil from the drain valve, which makes fried oil cleaning more convenient and efficient.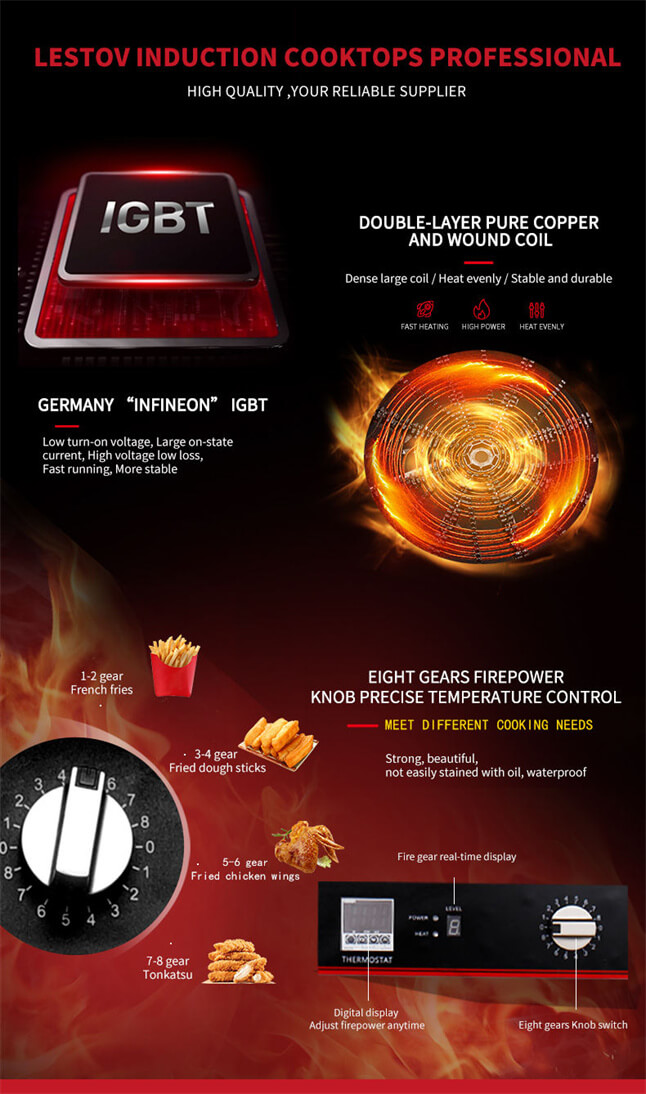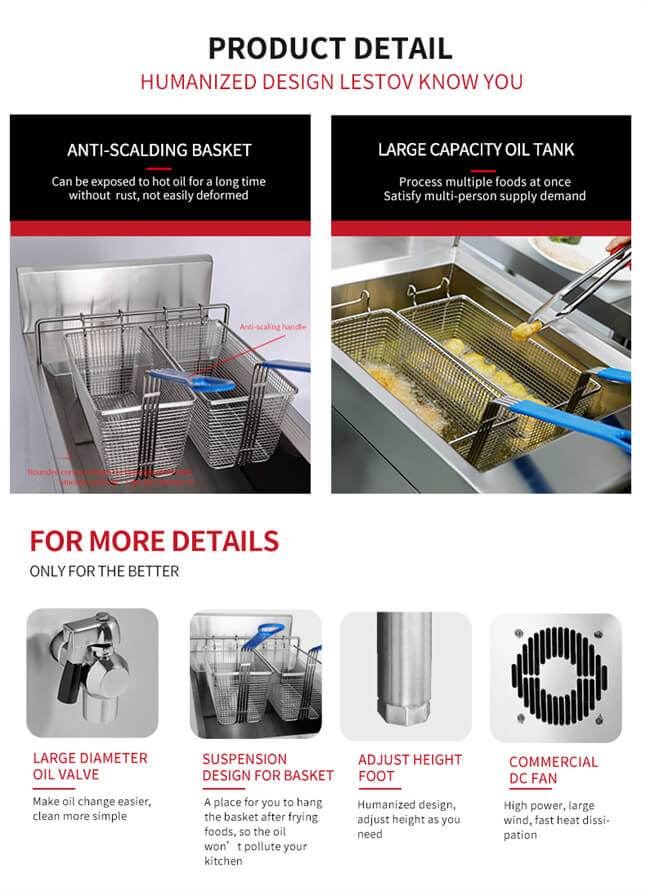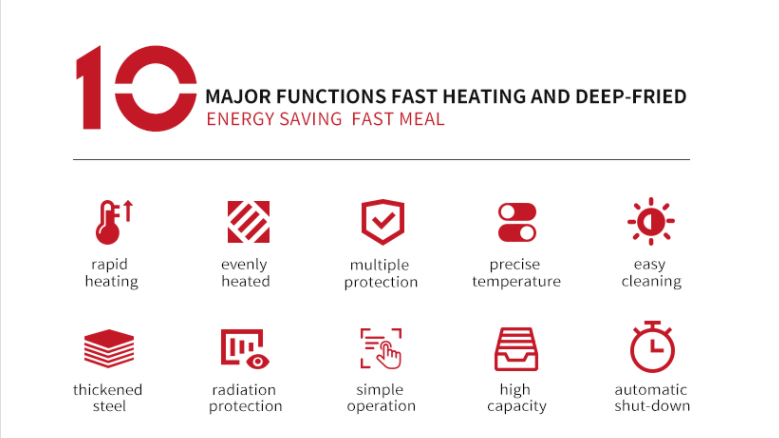 Product Parameter Details:
Model No.: LT-ZL-F212
Power Options: 12KW
Rated Voltage: 380V, 3 Phase
Voltage Fluctuation: From 340-464V
Product Size: D450*W800*H800+50mm
Oil Tank Size: D360*W460*H180mm
Oil Tank Capacity: 27 L
Switch Control Way: Multiple push-button
Temperature Control Device: Yes
Oil Drain Valve Design: Yes
Net Weight: 55 KG
Gross Weight: 107 KG
Package Way: Wooden Box
Package Size: 550*900*1050mm
Product Material: Stainless Steel #304
Spares Included: Fryer baskets (Two-piece)
With plug and play: No
IPX4 Level: Yes
Warranty: 1 Year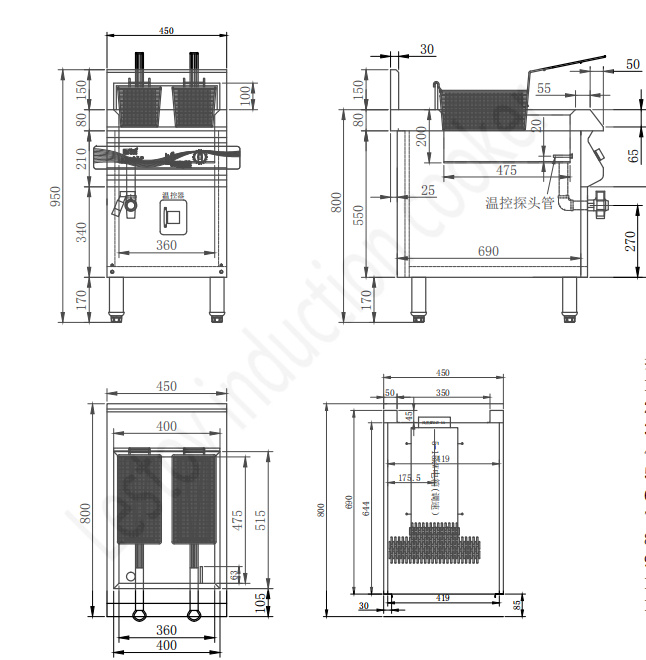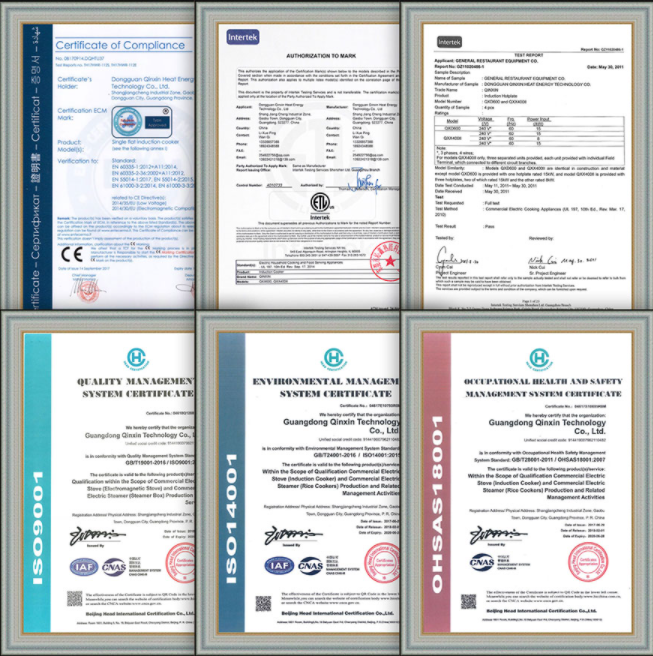 Application:
For businesses that need to meet the high demand for fried foods, this smart commercial induction fryer provides heavy-duty power to constant use.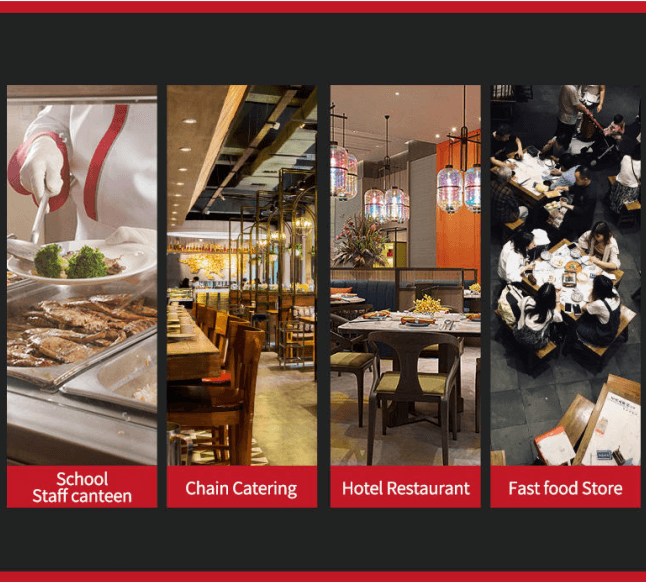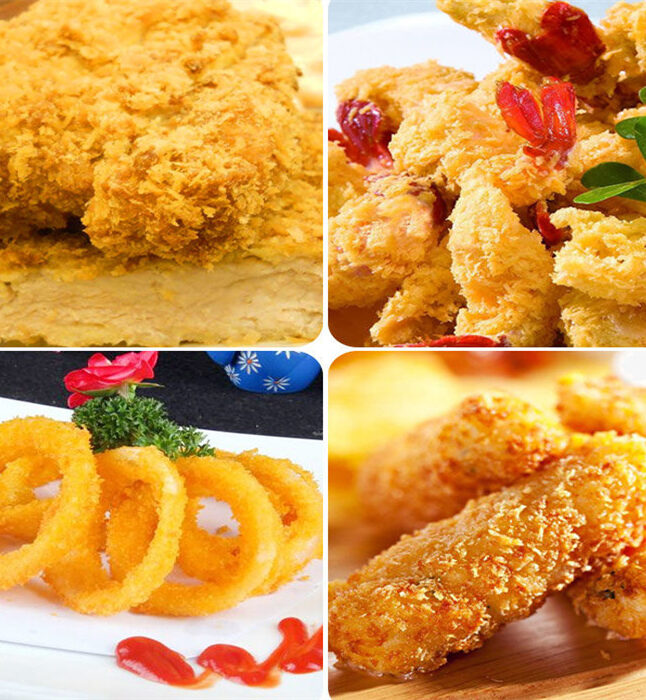 Why Choose Us:
For dishes that require high-precision frying temperatures, It can control the difference in temperature readings within ±1 °C, providing a reliable guarantee for the quality of fried foods.
If you want to start adding some fried menu in your restaurant or try a new commercial deep fryer business for reselling, please contact us to get the direct factory price.