Single Burner Commercial Wok Induction Cooktop
The large double wok is a Chinese wok pan that perfectly adapts to the restaurant, kitchen, and industrial. The giant double wok has 6 groups of operating elements that can set food temperature and time, and can easily control up to 8 levels of cooking power. Buy the best stainless steel wok at the best prices as soon as possible.
Description
Features & Advantages
An induction coil with the National patent surrounds the bottom of the bowl to allow for maximum heating distribution of an induction-compatible wok pan.
Independent temperature and time display allow chefs to easily and intuitively read data in real-time.
The design of 6 operation channels can set different temperature and time combinations for food.
Once the induction equipment is not required to work, the anti-misoperation switch can directly provide safety protection.
Adjustable power controls (from 3kw to 15kw) give you variable control of the firepower as you would with gas.
The D14 LED display for precise user feedback, such as power consumption, kilowatt power, heating power level, and real-time fault indications.
The microprocessor monitors vital components per second to check for overheating, power supply problems, and more.
Germany "Infineon" IGBT for safer and stable performance and ultra-low noise design (below 45db) for more pleasant working.
The European-style furnace feet are sturdy and durable, and the adjustable height ranges from 170mm to 210mm.
The swingable faucet meets food safety standards and makes the water inlet convenient.
The cooking surface of the furnace body has a groove bar design, which is conducive to drainage.
All stainless steel material, and durable panel (the thickness of the side panel is 1.3mm, and the front panel is 0.9mm).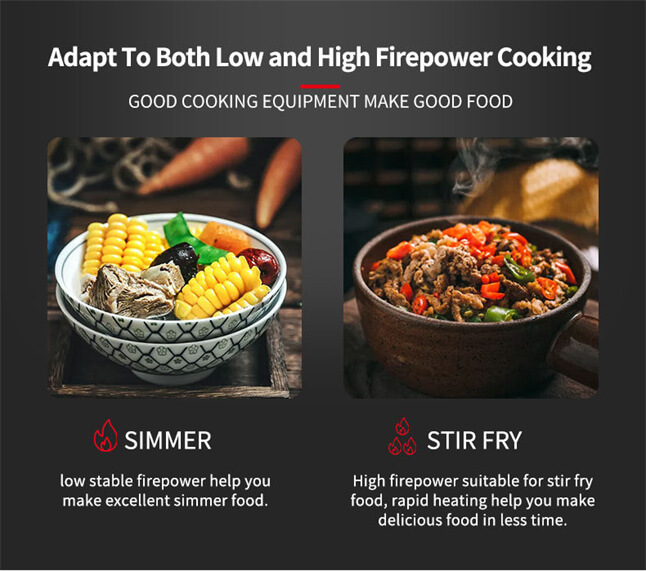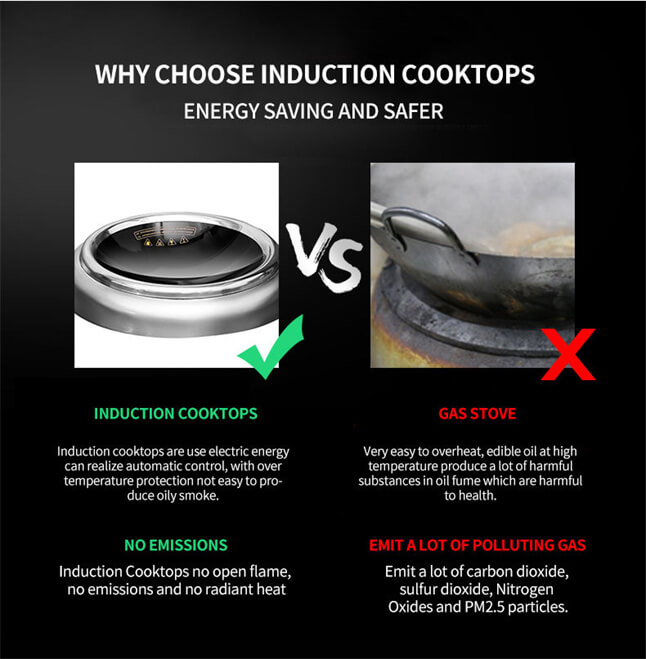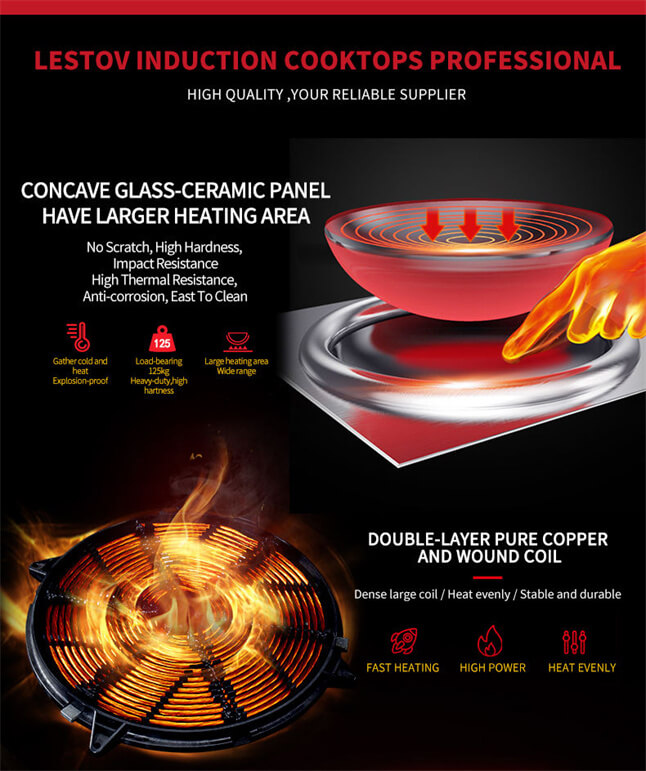 Product Parameter Details
Model No.: LT-X400-E115Y
Power Options:  8KW/12KW/15KW/18KW
Rated Voltage: 380V, 3 Phase
Voltage Fluctuation: From 340V to 464V
Product Size: D1050*W1100*H800+400mm
Glass Size: Φ400mm, Thickness 4.5mm
Matched Wok Size: Φ500mm, Depth 159mm
Wok Pot Capacity: 17.5L
Switch Control Way: Knob+ Push-Button
Net Weight: 80KG
Gross Weight: 210KG
Package Way: Wooden Box
Product Material: Stainless Steel #201/#304
Spares Included: Wok & Pot frame (One piece)
IPX4 Level: Yes
Warranty: 1 Year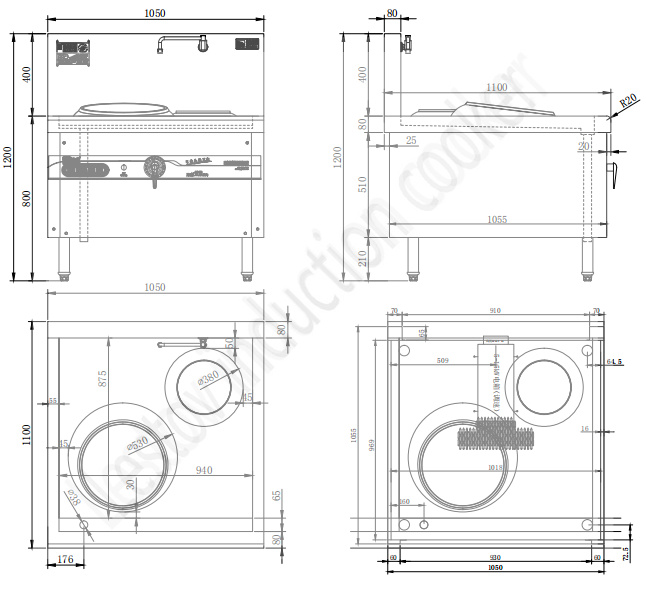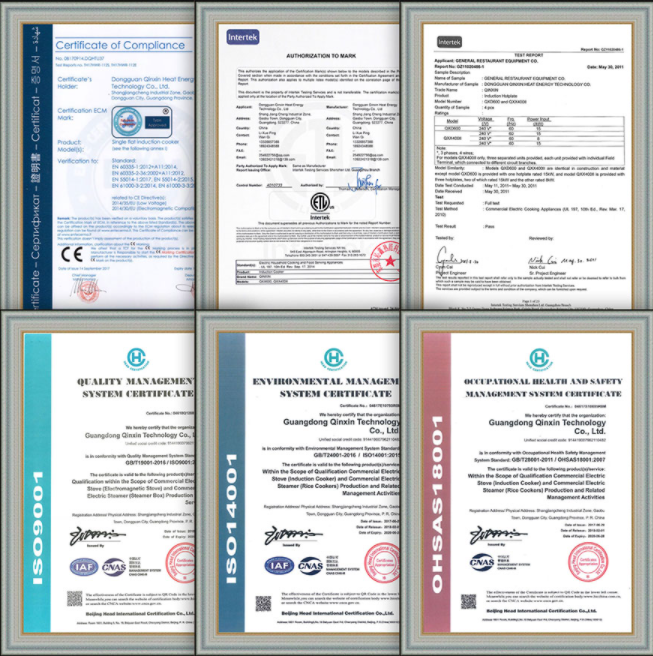 Application:
This commercial induction range cooker is ideal for stir-fry dishes or stews.
Whether you are a fast-food restaurant or a Chinese restaurant, try this right range cooker.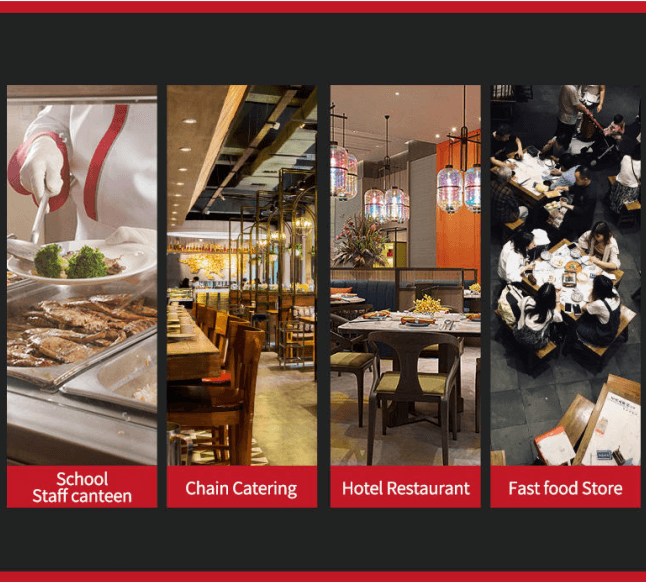 Why Choose Us:
Our commercial induction cookers have been exported to more than 50 countries since 2003. Now we still keep growing.
If you want to buy commercial range cookers for the restaurant business, consult us for direct factory price.