Commercial Induction Cooker Control Movement
The core of the Lestov commercial induction cooker is equipped with a double-layer energy-concentrating copper wire reel, Infineon IGBT, self-developed PCB board, and twin-turbo cooling fan, achieving stable operation for 3000 hours, 95% energy utilization rate, and multi-functional control.
Description
Features & Advantages:
With a soft start design, the noise in the operation process is lower than 45 decibels, one-button start.
Improve the withstand voltage of the power chip, and run stably in the super anti-grid fluctuation
Using German Infineon IGBT, digital signal processor, and high-voltage driver IC, the response is sensitive and fast.
Equipped with twin-turbo high-frequency cooling fans to protect internal components and extend service life (3000 hours)
Using advanced integrated circuits to match the needs of commercial high-power, to provide stable, safe, and efficient current output.
The movement shell is made of stainless aluminum, IPX6 waterproof level (water spray with a water flow of 100 L/min for 3 minutes)
The circuit is equipped with an anti-magnetic interference EMC module to provide efficient protection for power grids, electrical appliances, and cooking equipment.
The dual-core control system is adopted, and the main control board and display screen are equipped with independent microcomputer control chips to achieve high-precision control.
Combined capacitor design. The main circuit is equipped with a 1.5mm thick all-copper bridge. Compared with the super printed circuit board, the current carrying capacity is increased by 10 times, providing a safe and stable circuit.
The main circuit is bridged with a 1.5mm thick copper chip, and the load capacity is 10 times higher than the rated current of the printed circuit board. The circuit is safer and the performance is more stable.
Product Parameter Details: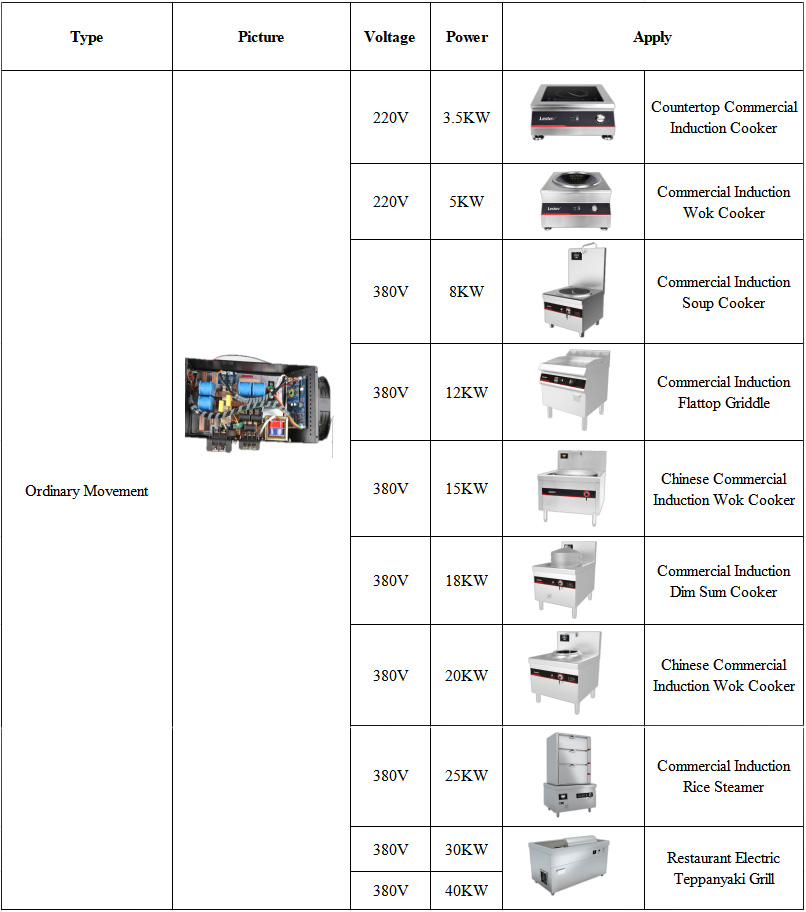 Application:
This commercial induction cooker movement is ideal for a cooker, fry machine, flat-top griddle, or another induction cooktop. Lestov induction movement with a dual-core control system realizes high-precision control and an independent microcomputer control system.
Why Choose us?
Our commercial induction cookers have been exported to more than 50 countries since 2003. Now we still keep growing. If you want to buy commercial range cookers for the restaurant business, consult us for direct factory prices.