Commercial Induction Cooker Parts
What are commercial induction stove parts? Commercial induction stove parts are cooker accessories that compose and guarantee 95% thermal efficiency, precise control, 360° non-blind spot heat conduction, and long-term cooking of commercial induction cooktops.
Commercial induction stove parts include cooker coil (heating element), cooker knobs, LED display, induction PCB board, valve parts, cooker extractor fan, boiler thermostat, fryer filter, cookware, and other equipment parts.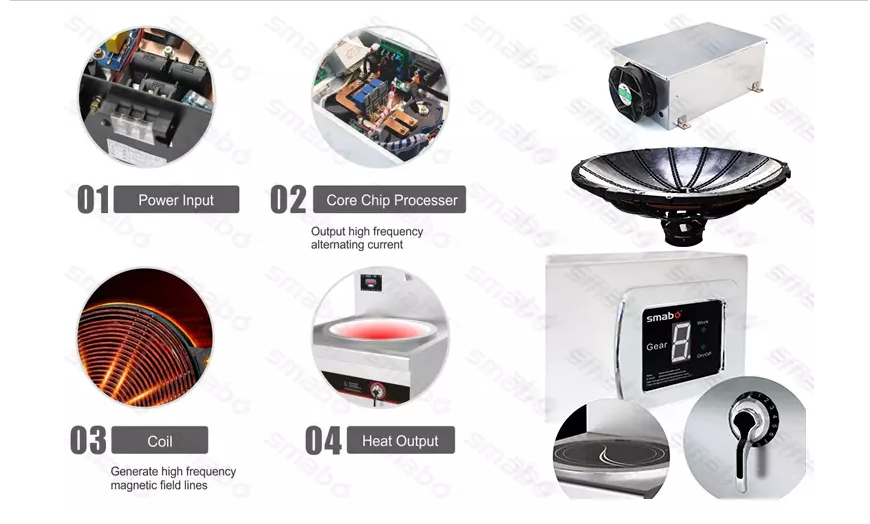 Lestov commercial induction cooker supplier selects German professional top IGBTs, double-layer concave energy-concentrating coils, high-frequency dual cooling fans, microcomputer control systems, etc. to achieve the stable performance of induction hob in high thermal conductivity, precise control, and intelligent operation.
Related reading: Buying induction cookware – tips for 2021
Best Commercial Induction Cooker Parts For Sale
Reasons to Buy Lestov Commercial Induction Cooker Parts
The PCB Core Box adopts dual-core control system, which is independent microcomputer control system, can achieve high and precision control.
EMC module design to prevent magnetic interference and protect power grid and electrical equipment.
Using the advanced technology of German "Infineon" IGBT, German "Infineon" digital signal processor, and German "Infineon" high voltage drive IC.
The Lestov induction cooker coil is a double-layer concave energy-concentrating type, which realizes 360° heating without blind spots.
Lestov induction hob provides a twin-turbo cooling fan for 7% of the waste heat in the portable induction cooktop.
Equipped with national patented magnetic foot induction switch, which ha 8 fire-power gears and can rotate 360 degrees.
How to Buy Lestov Commercial Induction Cooker Parts
You can take advantage of the search bar or visit the products category directly to locate the desired goods when you visit our website.
After viewing detailed information of our products, if you still have any questions, please contact us at any time. We will answer that no more than 24 hours. (If you want to look our factory or talk about customized Commercial induction stove partsthrough a video call, please keep in touch with us in Whatsapp or Wechat.)
Once all Commercial induction stove partsand quantity as well as the type of shipping confirmed, we will give you a quotation document including products' detailed information, shipment, and payment clause. With regard to customized goods, both parties should check the drawing documents carefully in case of misunderstanding.
(Note: As a specialized induction cooker producer, we are not in charge of transportation. We will offer EXW generally. Or consult the Chinese agency directly in accordance with your shipment clause.)
After the commercial invoice document confirmed, please transfer your capital in accordance with the payment clause.
Order Production. After receiving the payment, we will begin to manufacture your goods. If there is an emergency, please send us the bank draft to testify your payment. Our sales personnel will show you pictures and videos of your ordered goods on time.
Under normal conditions, we will deliver your order in accordance with the invoice contract. In the Lestov Manufacturing Center, all commodities have passed a thorough examination to ensure superior quality.
We will work with a third-party transportation company or your designated freight forwarder to transport your goods. (Note: If you do not have rich import experience, you are better to find a customs broker for help, because customs clearance will avoid further unnecessary detention and demurrage fees.)