Double Basket Commercial Deep Fryer for Sale 27 Litre
This is a recommended double commercial fryer. You can make two fryer chickens in the 27L cooking area at the same time, which will save you time and cost. Double fryer will be a premium choice for cafes, bars, food trucks, travel food stalls, and fast-food restaurants.
Description
As a professional manufacturer of commercial induction cookers, our Western floor models induction fryer commercial
equipment plus fry baskets accessories can serve as your primary choice, to keep your catering business running smoothly.
Features & Advantages:
95% energy efficiency by induction heating brings fast cooking for the output of fried food and short recovery time.
The knob switch corresponds to 9 levels of firepower controls, which can meet the different requirements for frying heat from low to high.
Omron thermostat control allows you to adjust the up-limited temperature for frying.
When the temperature approaches the preset value, the heating speed will become slower to prevent the oil temperature exceeded.
The stainless steel drain valve with a faucet is easy to clean oil stains.
The frying area is connected with the oil drain valve to facilitate oil drain and increase the convenience of use.
When buying, deep-fry baskets are the free accessory. The hook-type oil screen is used to hang the frying basket, reducing the amount of fat in the food.
They feature a one-piece, non-welding process and have coated handles and front hooks that can hold up to 2.5kg of food hanger-on.
You can choose two standard sizes or one full-size fried basket for this fryer for the intended use or large quantities of food.
The design at the bottom of the fryer has some move-up elements, such as a fryer screen. It can speed up the process and allow for quicker, more thorough cleaning.
Since it can catch loose sediment, they prevent those crumbs from accumulating around the heating elements and collect blockages to make filtering easy.
Special options allow you to customize side-by-side double fryer tanks so you can cook two types of food at once transferring flavor between them.
It means that you need to customize a large deep fryer to expand the cooking output for a variety of fried food options.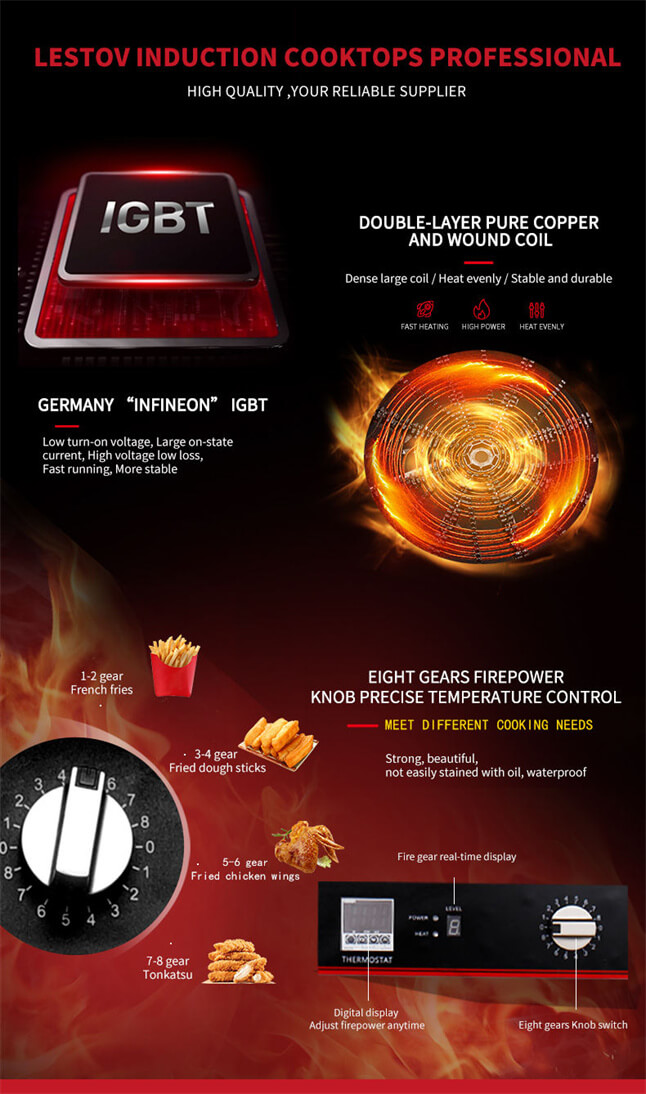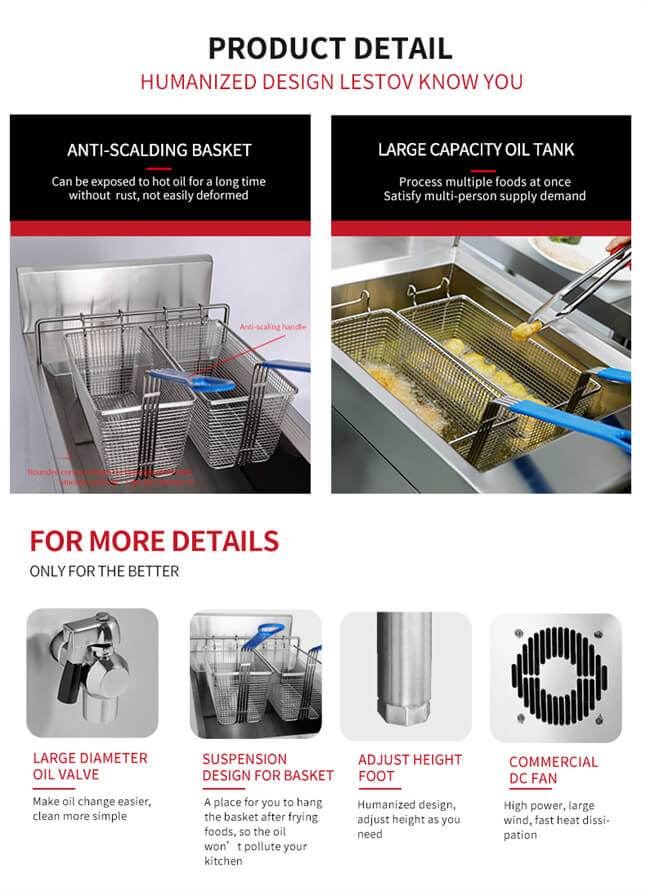 Product Parameter Details:
Model No.: LT-ZL
Power Options: 8KW/10KW/12KW
Rated Voltage: 380V, 3 Phase
Voltage Fluctuation: From 340-464V
Product Size: D450*W800*H800+150mm
Oil Tank Size: D360*W460*H180mm
Oil Tank Capacity: 27 L
Switch Control Way: knob
Temperature Control Device: Yes
Oil Drain Valve Design: Yes
Net Weight: 55 KG
Gross Weight: 110 KG
Package Way: Wooden Box
Package Size: 550*900*1150mm
Product Material: Stainless Steel #201/#304
Spares Included: Fryer baskets (Two-piece)
With plug and play: No
IPX4 Level: Yes
Warranty: 1 Year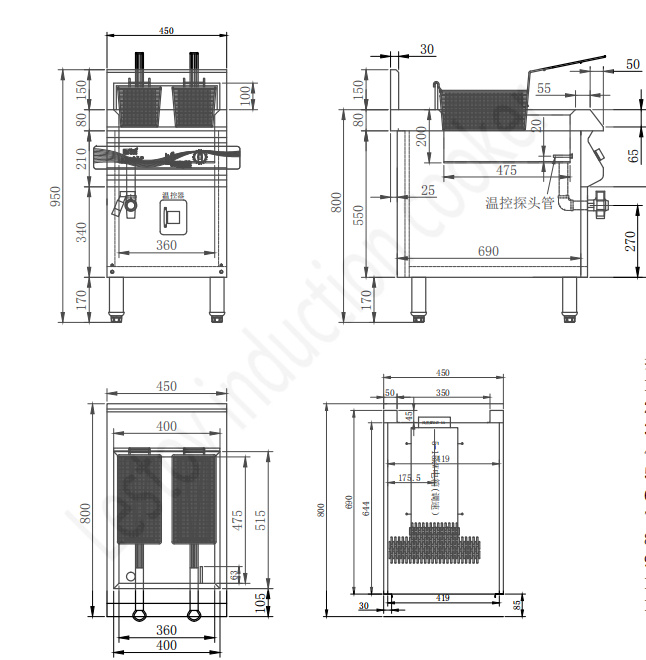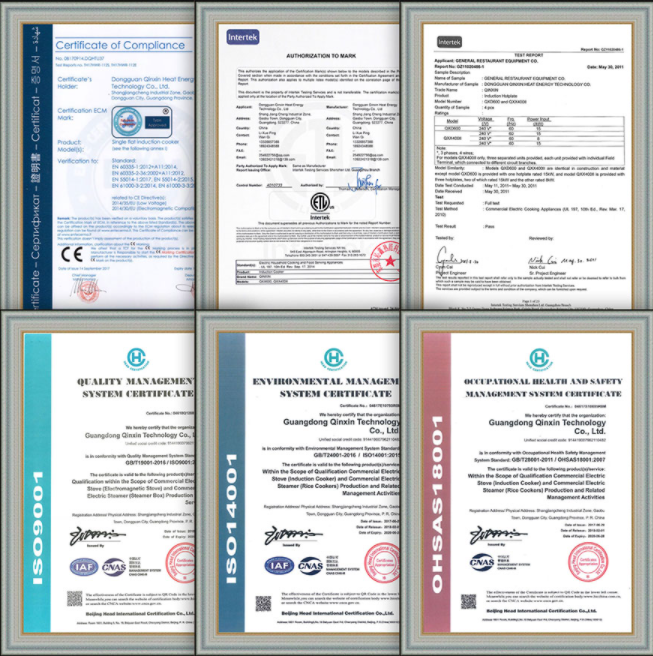 Application:
Great for cooking staples like French fries, chicken, and other high-demand foods and main courses.
This freestanding commercial deep fryer machine provides heavy-duty power to constant use.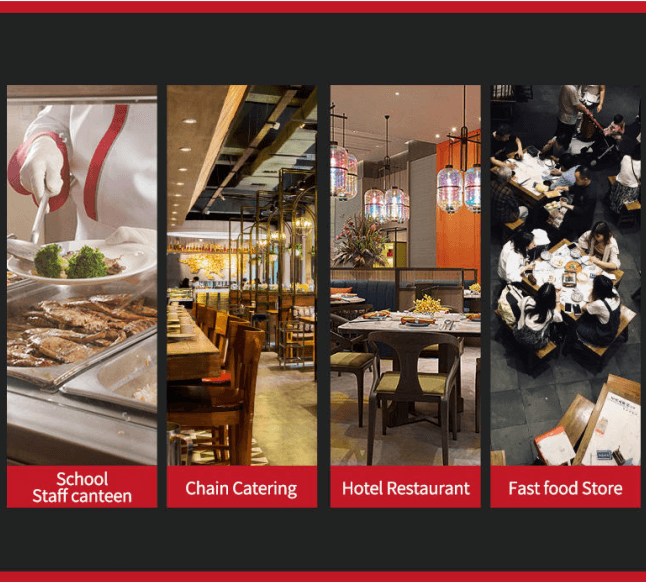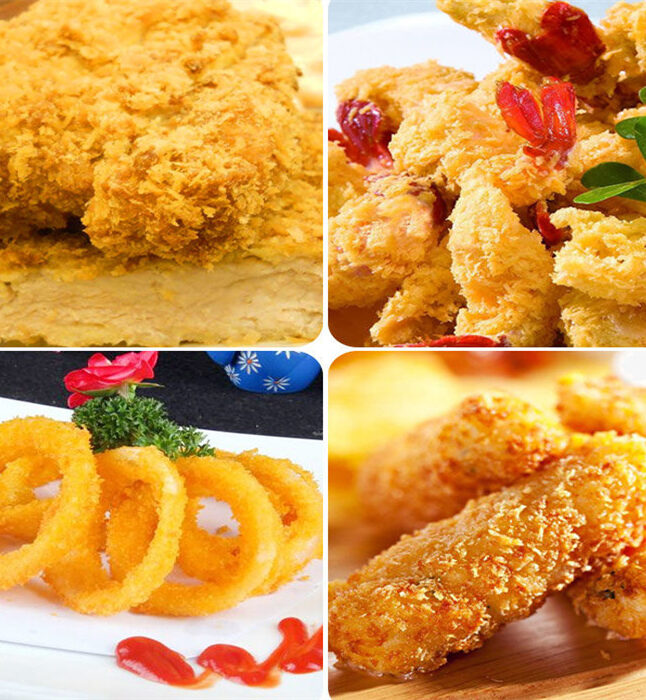 Why Choose Us:
Each partner who intends to be our distributor or agent or purchase equipment for a chain restaurant will buy some samples to test their quality before bulk orders.
Thanks to 17 years' focus on product quality, we have received long-term support and cooperation from more than 50 countries.
We believe you can benefit directly from our commercial induction fryers. If you are looking for a reliable manufacturer, Lestov will be your best option in China.