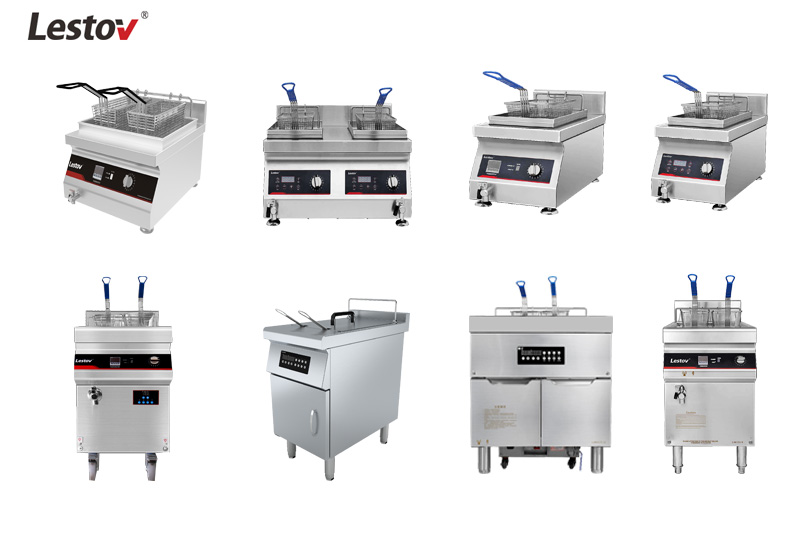 Commercial Induction Deep Fryer-Buying Guide (2022)
Commercial Deep fryers have been added to the list of popular kitchen equipment for restaurants, industries, and food trucks. It can complete the frying of large quantities of turkey, fish, doughnuts, and chips in a short period, while only a few amounts of fuel consumption and energy costs are used in commercial kitchens.
If you have searched for commercial deep fryers on shopping websites, you will find that choosing the right deep fat fryer among the many types of commercial deep fryers is not a simple action.
Therefore, in this fryer selection guide, the Lestov commercial induction deep fryer manufacturer will discuss the definition, types, function, and purchase fryer tips to help you determine the commercial deep fryer you need.
What is the difference between a Commercial Induction fryer, commercial air fryer & commercial gas fryer?
Why choose commercial induction deep fryer?
What types of commercial induction deep fryers?
Commercial induction deep fryer types are divided into the single-cylinder fryer, double deep fryer, four-basket fryer, and other products that support customization by cooking area. In terms of functional configuration, it was divided into Oumenglong deep fryer thermostat and conventional channel models, among which the Omron fryer is the best-selling option.
It is worth mentioning that you can choose a restaurant tabletop induction deep fryer or a floor commercial induction fryer according to the commercial kitchen space. The restaurant tabletop induction oil fryer is fully adapted to the compact commercial kitchen environment and can show high-quality work service in busywork.
The floor commercial induction deep fryer shows more professional ability in frying turkey and pork chops. If you are operating a food truck, a large restaurant, or a mobile kitchen. A floor commercial induction deep fryer is a good choice.
Special Design for commercial induction deep fryers
Oumenglong's deep fryer thermostat
How to control the commercial induction deep fryer temperature? You may think that this is a skill that experienced chefs are good at. That is the conclusion. But is it accurate to the set temperature? It is difficult to guarantee even the measurement of the thermometer.
Oumenglong's deep fryer thermostat can control the commercial induction fryer to reach the set temperature (the precise temperature deviation is ±1 degree) and maintain the best oil temperature. That is not an exaggeration.
Oumenglong's deep fryer thermostat can automatically sample and adjust the temperature within 250ms, and reduce the temperature recovery time by about 80%. You can see the precise change data on the intelligent display, without manual adjustment by the chef and thermometer.
Deep fryer filter
When edible oil is fried many times. Some harmful substances such as benzopyrene (dense smoke) and acrolein will be generated & as some tiny impurities such as batter/crumbs.
These impurities will reduce the frequency of edible oil use and also mean that your bill will increase. How do remove harmful substances and impurities in the commercial induction frying machine? That is not the task that the oil screen (filtering large particles of impurities) can accomplish.
Fortunately, the oil filter (A stainless steel drain valve with a tap) at the bottom of the commercial induction fryer can do an excellent job of purifying and filtering impurities and harmful substances in edible oil.
The same applies to how to drain a commercial induction deep fryer. The oil filter is responsible for draining the deep-fat fryer and can help you clean the commercial induction fryer faster.
Deep fryer coil
The commercial induction fryer chooses a double-layer concave energy-concentrating coil on the line plate (heat-conducting element). It presents the perfect performance of 360-degree non-blind zone heating in terms of heat conduction. It avoids the loss of 40%-50% of the gas fryer (open flame cooking) thermal energy converted into actual cost savings for you.
Stainless steel deep fryer
The commercial induction deep fryer is made of a durable stainless steel structure whose service life of the commercial induction fryer can reach about 3000 hours, and you can use stainless steel deep fryer in an environment with a humidity of 30%-90% and a temperature of -5°-40° fryer.
Eight-speed power adjustment -fryer switch
A commercial induction fryer has an eight-speed power converter that accurately controls different powers for different foods. Such as sauces, French fries/vegetables (easy to cook), and you can choose between 1-3 levels (0-30°Cold and warm oil), fried chicken, fried fish, choose 3-5 gears (85-120°low temperature oil).
The hot-selling commercial induction deep fryer- from Lestov manufacturer
If you are planning to include fried food in your restaurant menu options, then it is time to buy a high-return commercial induction fryer for your restaurant.
But how do select a suitable and good-quality commercial induction deep fryer? Perhaps you can get inspiration from the Lestov hot-selling fryer catalog.
Omron Double Cylinder Induction Deep Fryer
Cook 13.3L of chips in double separate oil tanks at the same time, and get fried chicken without flavor infection after reducing the amount of oil.
This food truck induction deep fryer with double tanks is accurate to ±1 degree under the Omron thermostat. Bring you increased profits.
Two independent frying tanks are equipped with corresponding controllers and temperature monitors, which can be controlled and adjusted independently.
It is suitable for frying multiple batches of turkey/fish/chips/doughnuts/chicken wings/shrimp in chicken shops/bakeries/restaurants/food stalls/food trucks.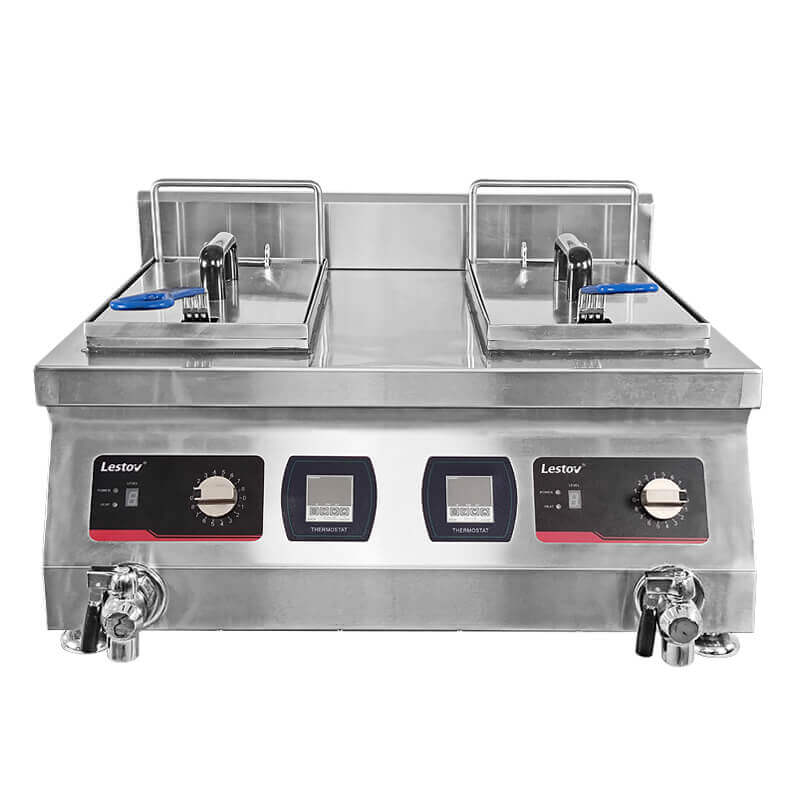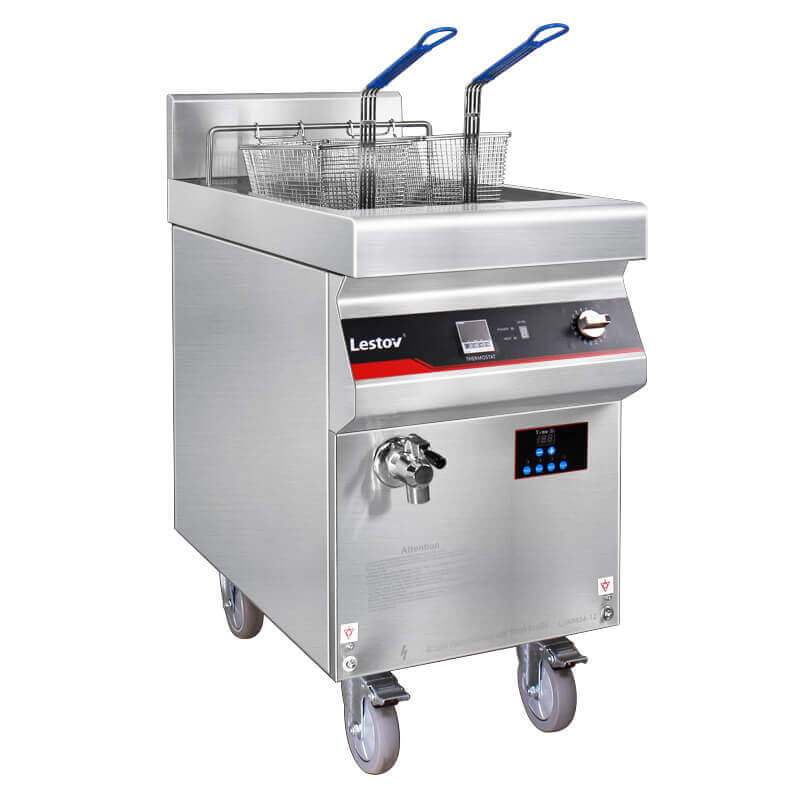 Freestanding Commercial Induction Deep Fryer with Caster
A floor-standing commercial induction fryer is the perfect combination of efficiency and volume. You can cook large quantities of orders with a frying capacity of 27L-36L.
The design with casters helps you transport to any place, and the time and temperature of the six menus can be preset and stored through programming controls.
95% induction heating energy efficiency for fast cooking and short recovery times for fried food output.
Unlike commercial electric fryers, which put the heating element in direct contact with the oil, commercial induction deep fryers with oil and electrical separation eliminate the possibility of electrical leakage.
Finally
Make fried food a high-quality choice for your restaurant's profit growth. That will be the best commercial induction deep fryer that can provide you. At the same time, I hope Lestov can give you valuable tips for a commercial induction fryer.