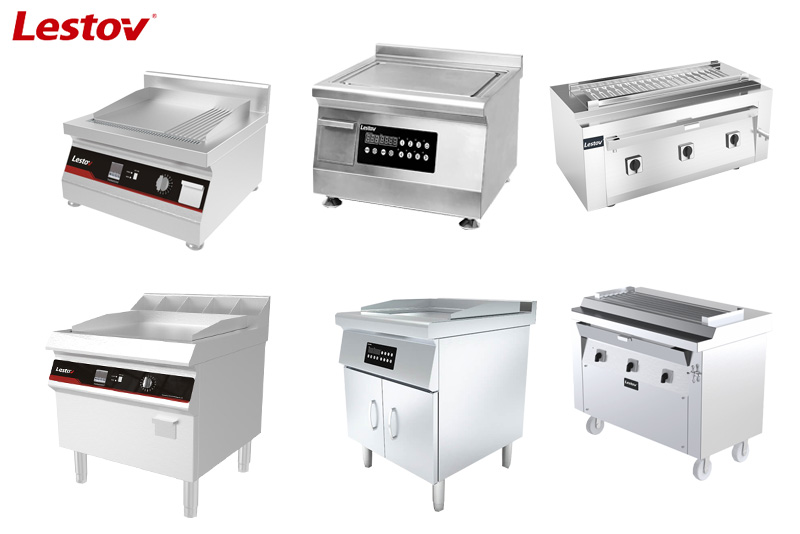 The best griddle grill for induction cooktop-2022
The induction flat-top griddle has a unique role in taco booths, food trucks, camping kitchenware, and commercial kitchens. If you are looking for an economical griddle plate for an induction cooktop, it will be difficult for you to find more suitable commercial griddle equipment outside of Lestov.
It almost provides grill top griddle choices of cast iron, stainless steel, nonstick, ceramic, and other materials that have significant grilling capabilities.
What is a griddle pan?
Grill pans are large stovetop square pans that were used for grilling like grills. You can choose from cast iron, stainless steel, nonstick, ceramic, and other materials. These induction griddles pans specialize in kitchen, restaurant, industrial, indoor and outdoor grill fish, pancake, chicken, steak, bbq, and hot dogs.
Difference between grill and griddle
The difference between induction griddles and induction bbq grills is that the heating area of the grill is a flat top, while the grill is composed of multiple sets of ridged heating tubes.
On the commercial grill, you can see the scorching marks on the food, which will become the promoter of the separation of the food from the fat.
Grilling is a rare healthy cooking method that can reduce the overall fat of food, especially induction bakeware (no open flame and no oily smoke).
Most bakeware and induction grills will be designed with a front concave oil tank to collect the grease after the food is grilling.
The smooth and flat grilling area on grill pans makes it easier to bake food evenly. You can use the commercial flat-top griddles to make a pancake, beefeater, taco, and any food that needs to be grilled.
Whether it is countertop small griddles or tabletop round griddles that increase the grilling range, they are very suitable for commercial kitchens or stalls to make multiple batches of food at the same time. Specially built-in griddle or small griddle pan, very suitable for use in camping.
Grid pans with lids will be a good choice for grilling up and down. Whether on the top or bottom, the food receives the same amount of heat and matures quickly.
The integrated flattop griddle can be built-in or folded into your kitchen cabinets and drawers, which will be the best choice for compact kitchens to achieve integrated kitchenware. Especially tabletop small griddle grill can be transported to indoor/outdoor kitchen and camp as a portable griddle.
A flat-top induction griddle and flat grill are the same high-quality kitchenware for grilling food and have the same leading advantage. The induction grill pan can grill any food, has a larger heating range, and is compatible with any location. It is a versatile best griddle grill.
The best commercial griddles for sale
Few people can completely resist the charm of an induction cooktop with a griddle in instant heating, energy saving, easy cleaning, and high efficiency, if you have ever tried induction griddles.
And this is one of the reasons why induction grill pan beats large/electric griddle and commercial outdoor gas griddle to become consumers' preferred grid hot plate.
That is a griddle pan that intelligently senses and controls the temperature without any chef experience. Six sets of menu preset, including records of the temperature, power, and time of the food grilling & could get the same heat the next time you grill the food. Hospitality, without manual adjustment and control, automatic operation by one button.
The separately designed condiment placement area in front of the griddle pans. Use the residual heat of the flat griddle pan to melt cheese sauce, black pepper sauce, minced meat, and other seasonings. It always keeps the sauce at a suitable temperature, thereby helping you reduce the consumption of sauce heating & ability and repeat the action.
24.6″x19.3″ (625*490mm) large square cooking area, to solve the problem of fish, beefeater, ribs stacking on the commercial grill (Uneven heat), to provide a larger surface area on the grill top griddle to grill more Possibility of batching food.
Of course, you couldn't deny the ability of the 20mm/18mm thick stainless steel full flat cooking plate. It can endure up to 800° high temperature and show fast heat conduction and high-efficiency grilling.
Even if the built-in griddles or plug-in griddle is hiding in the kitchen cabinet/drawer, the remaining 5% of the waste heat will be released through the cooker hood (dual cooling fan).
There are still many hidden skills to increase storage space in the built-in griddle. The independent magnet cabinet door design allows you to store more utensils, such as cooker lid, grill stone, wok, etc.
Have you also tried to marvel at the performance of a Teppanyaki chef using eggs to draw love on a spatula? That seems to require very skilled technical operations, but you can also perform perfectly. That is not a joke.
The power could adjust in 8 gears in the induction grill pan. It allows you to control the most suitable firepower during performances. The cooker handle that conforms to the rotation mechanics can easily run to all angles, and the smooth and sharp grill knife can give steak, eggs, Beautiful cross-section of pancake.
The nonstick griddles help you grasp the crispness of food without the bad situation of a sticky pan/sticky pan. Try using an induction cooktop with griddles to perform a wonderful teppanyaki show for your family.
Why do grill pans need removable splash guards? Is it to prevent food grease from splashing on customers' clothes or arms? Or to prevent the leakage of food fat and store the fat for fried eggs and fried sausages? That looks like a professionally designed accessory for versatility.
It is used to quickly clean the griddle pans and has a foldable and detachable accessory design. That will be the assistance you need when cleaning the flat top griddle grill. It can prevent dust from entering the food surface, and at the same time clean up food residues and wash wastewater.
We still try to provide you with the most concise and efficient accessories when collecting food grease, and this is what the detachable front kitchen sink accessories basket undertakes. All food grease will flow to specific sink accessories. You only need to open the oil valve parts to help the grease discharge without contact with the grease.
How to use griddles?
How to clean a griddle grill?
If you are looking for a delicious griddle cooking recipe for an induction griddle plate, then you have entered the appropriate interface. Please follow me to get the best induction griddle pan recipe from the restaurant griddle manufacturer.
Have a brand new flat top griddle grill, but you are not sure what kind of delicious grill? Perhaps the simple, double-delicious beef cheeseburgers are worth trying. They are the same as or even better than the restaurant bought.
Staple food: ground beef (you can also choose steak), fresh bread/tortilla
Seasoning: butter, cheese slices, salt, pepper
Side dishes: sliced tomato, lettuce, onion
Adjust the Lestov induction grill pan to the third position for preheating
Mix salt, pepper, and ground beef thoroughly, and gently make small balls with your hands (you can make larger or smaller sizes if you like)
Coat the grill pans to be grilled with 1/4 of the butter, put on the burger balls for baking, gently squeeze them with the griddle spatula, so that both sides of the burger balls form a crispy texture (usually 3 minutes)
Gently squeeze the pre-seasoned beef balls into the roasting pan with a spatula. After the bottom becomes dark brown and crispy, turn it over. When it reaches the ripeness you want, put the cheese slices on it and melt it.
Use a grill knife to separate the burger ball into two parts, add the grilled beef slices with cheese, add tomato slices, lettuce, and other vegetables you like.