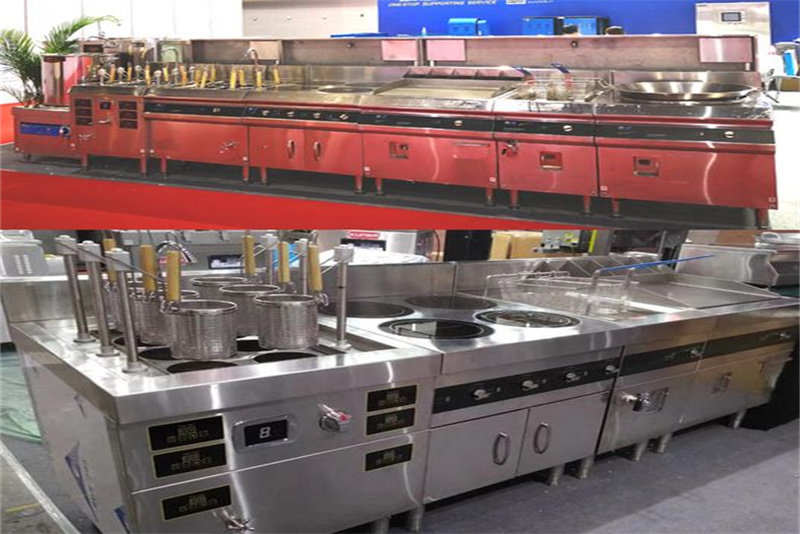 The best Commercial Induction Flat Griddle for sale- Lestov Manufacturer
Get the smoky flavor from the original roasting in the restaurant, to use a flat grill to stimulate the profit of grilling bbq, sausage, ribs, vegetables, fish, and other menus.
That is not only the privilege of the party, commercial kitchen, or industrial. But also used in family beefeater bbq such as outdoor/indoor, backyard and boat.
Whether in the hot summer or cold winter. The grill pan bbq has become a favorite table for consumers and family gatherings.
People try to get the natural protein feast and the taste bud satisfaction of burning flavor from grilled food, and this is the high-quality help that a commercial induction grill pan can provide to restaurants.
Just like Lestov's LT-SKL-E112 series, it carries the appearance of cast iron, stainless steel, metal, flat iron, and other materials.
And with multiple sets of independent heating tube control, it is competent for instant heating, no oily smoke, and multi-function grilling, to help consumers stand out in the commercial grill.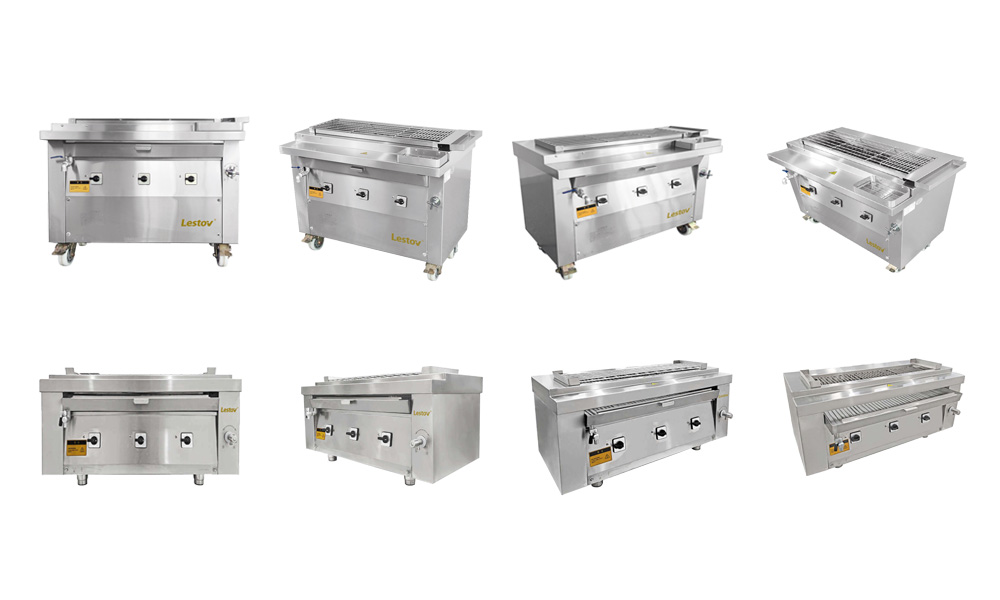 Griddle VS grill
Why choose the Lestov commercial induction grill?
Lestov's LT-TSKL-E112 gets rid of the oily smoke on human eyes, clothes, and throat. You can accompany you by the induction heating tube (no oily smoke) and watch the maturation process of the food roasting without worrying about complaints from neighbors caused by oily smoke emission and cleaning of clothes oil stains.
Commercial bbq grill provides width 21, 23, 26, or customized inch models to meet your needs. It has many detailed and thoughtful powerful functions that professional grill shop/bbq rotisserie businesses expect.
You can even place the commercial flat grill on the induction cooktop/stove, which is the same as the induction grill.
But on a gas grill/wood grill/solar grill, you need to be careful about whether the material of the flame grill is magnetic. The induction grill plate only produces induction with magnetic materials (cast iron, steel, stainless steel).
Related reading: Understand the technology and principles behind commercial induction cookers
High-efficiency Grill
That is why the commercial induction grill is a more high-end and high-quality choice. The induction heating method avoids making your kitchen like a fire pit grill, thereby avoiding more neighbor disputes and treatment of eye diseases.
The smokelessness of induction bbq is not the only commendable, especially in the realization of instant heating (95% thermal efficiency). It can independently control the temperature, power, and firepower of each group of heating tubes, and the performance of quick recovery and suspension of firepower is especially obvious.
The induction grill has a significantly different heating speed from the commercial electric griddle/gas grill and can retain more nutrients and moisture from the vegetables and beefeater.
Each induction grill pan will design a small sink for storing grease. They can usually be disassembled for draining and cleaning, similar to the unique barbecue device of the Korean bbq grill plate.
These stovetop grills have 3-6 sets of heating compartments that leave the beefeater with grilled marks, just like the induction grill pan when cooking steaks.
You can grill more than just chicken, sausage, ribs, and other meats. If you are a vegetarian or keen on sauces, you can try adding mozzarella cheese, and black pepper sauce to the bbq grill plate and adding more personal flavor to the food.
BBQ Grill Parts
The flat-top for the grill has 3-6 groups of heating pipes, and the shell is made of stainless steel, to achieve durability, 800° high-temperature resistance, and IPX3 waterproof level.
It allows you to grill any type of meat, vegetables, and Korean/Canadian barbecue for a product life of up to 3000 hours.
It has an astonishing instant heating speed, and just like a judge, gives each food particle the most equal heat distribution (according to different induction areas).
The main grilling area usually entertains large-particle ingredients such as beef, turkey, and fish, while non-meat foods such as vegetables and sausages are settled in the secondary grilling area.
Round-Hole Sink
In Lestov's LT-TSKL-E112 kitchen grill series, the unique round-hole sink of bbq grill designs allows the automatic discharge of excess grease and sewage and permits the disassembled tray to catch the grease.
Non-Slip Foot
The non-slip foot design of the small bbq grill acts on the locking of the machine, thereby preventing the risk of the induction grill from slipping off during grilling.
Built-In Induction Grill
These induction grill pans are allowed to be placed in any built-in kitchen cabinets. They will make your kitchen look complete and tidy, folding, portable flat top grills during camping.
Eight Firepower Settings
The commercial flat-top grill has eight firepower settings. You can adjust the appropriate temperature according to the heat demand of sausage, ribs, vegetables, fish, etc.
Greaseproof Cover
They are usually equipped with a greaseproof cover on the edge of the flat top bbq grill to insulate oil and wind from contaminating the ingredients, even though the induction grill is never like an old smokey/charcoal grill that loses its firepower when exposed to wind.
Built-In Cooling Fan
Lestov's LT-TSKL-E112 commercial grill is designed with a dual built-in cooling fan, which uses air circulation to remove 5% of waste heat and smell.
In Lestov's commercial induction grill series, you can choose a flat/custom round grill (Korean barbecue). There is a difference in volume between the small tabletop grill and large industrial grills.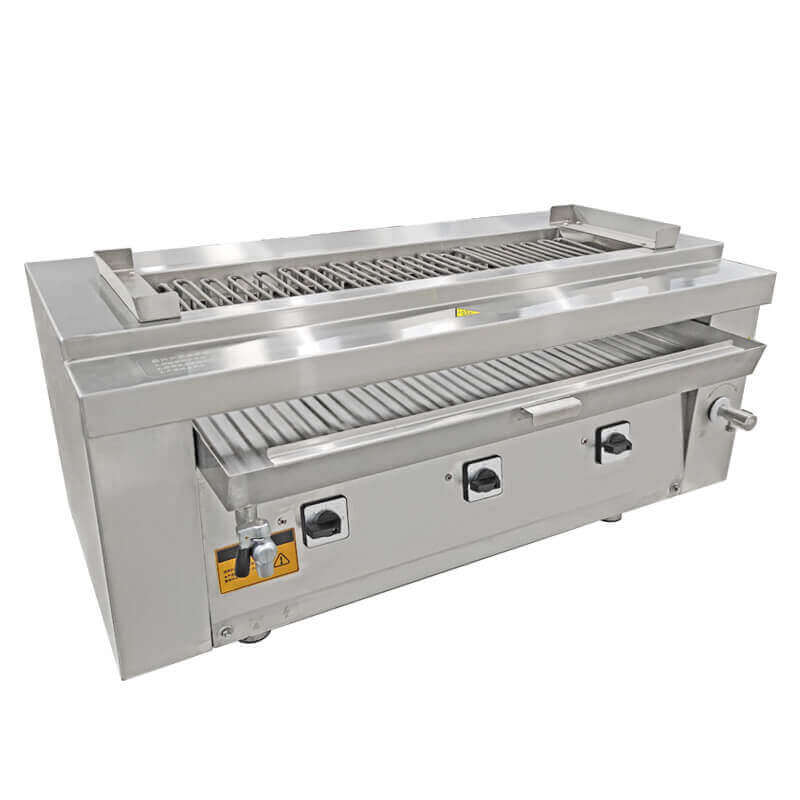 The small LT-TSKL-E112 portable flat-top grill series allows you to use it in a compact commercial kitchen, camping, or built-in outdoor/indoor grill. It can be portable to grill beef, lamb, and chicken wings anywhere.
Despite its small size, it can still be called the most cost-effective portable outdoor grill in terms of temperature control and grilling area.
The large LT-SKL-E112 large bbq series is more in line with the large-capacity grill machine requirements of commercial kitchens, canteens, restaurants, and industries.
These grills provide space for a 43-inch model to grill multiple batches of food at the same time. Under the high-power commercial conditions of 8KW/12KW/16KW, it is more suitable for commercial kitchens.
If you are in a seaside city or looking for a recipe for grilling seafood, please don't skip the grill fish recipe from the Lestov grill manufacturer. That is simple and full of the burning flavor of seafood production.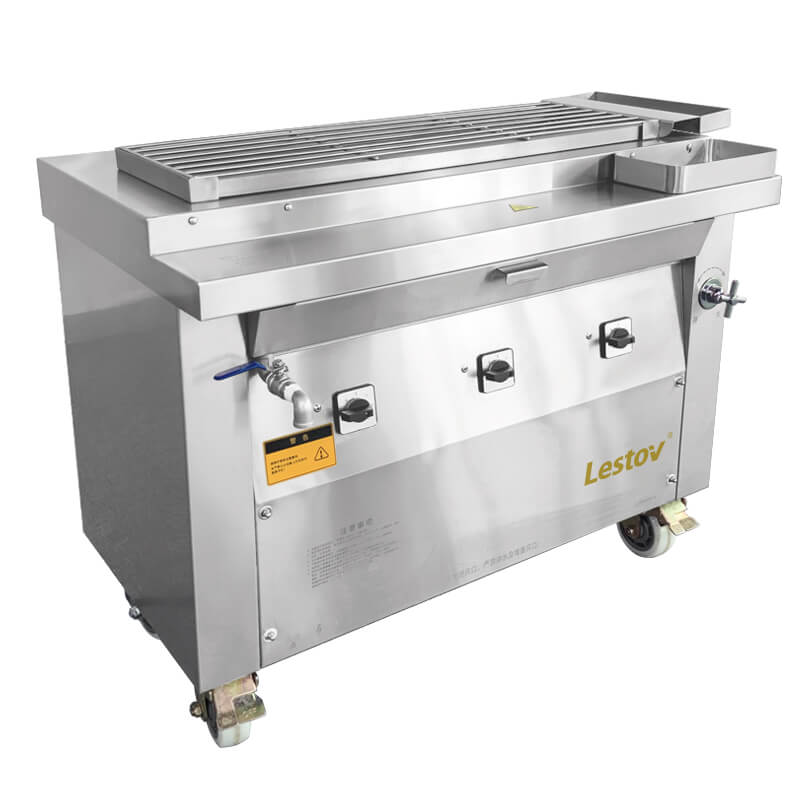 How to grill fish on Lestov commercial induction grill?
How to use the Lestov commercial induction grill? - video