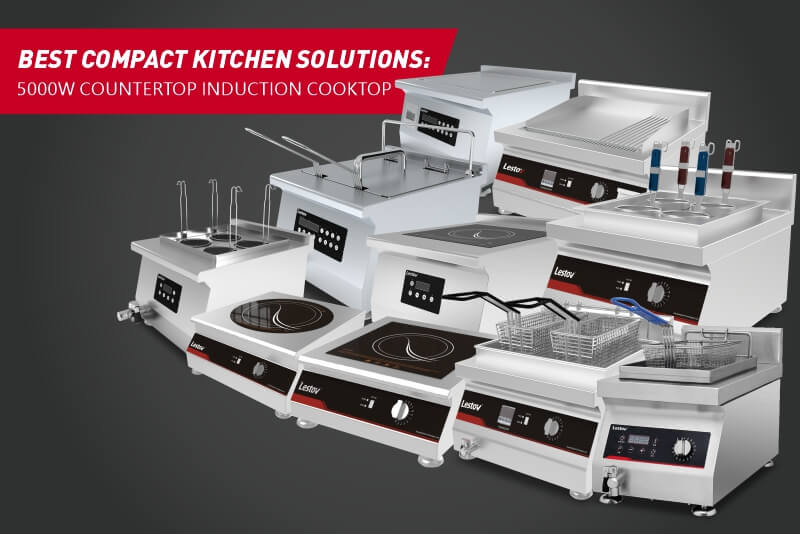 The best compact kitchen cooking solution: 5000w induction countertop
Every commercial kitchen's dream is to serve its numerous customers whatever they want without wasting their time. Most of them aim to do this by having many staff or chefs make these meals quickly. Others try to meet up by having the best cooktops, cookers available, including commercial induction cooktops and cookers. Two of these options work out fine and good when you have the space to accommodate that much staff and cooktops. But what happens when your kitchen is compact? What happens when you're battling with a limited kitchen space? When can't you have as many staff as you want because they wouldn't fit in the small space you have or when you can't have more than one cooker?
Of course, you will need to improvise, and you need to think very fast because you would need to serve all your customers their favorite orders, especially during the peak order time daily. The best way to achieve this dream is to have an extremely fast cooktop, fast cook, and quick heat meals in no time, and what's better than the 5000w countertop induction cooktops.
This 5000w countertop induction cooktop is a flat surface type of commercial induction cooker. It was creatively designed to be only suitable for the round bottom wok to maximize efficiency. For those with really compact kitchens with little or no space to operate, especially Chinese restaurants, this 5000w induction countertop is your best bet.
It comes as an all stainless steel design containing a 4mm black crystal plate. It's designed to be strong, it's heavy-duty that is fit for just about any environment, and it's durable in use.
This 5000w induction countertop is the best option for fast cooking stewing soups, sauce cooking, milk, chocolates, and any stir fry dishes you offer. It doesn't matter whether you're in a commercial kitchen, a big restaurant, or a pasta shop. Recommend that you use this fantastic countertop induction cooker for excellent efficiency in output and proper utilization of your cooking space.
Features of the 5000w induction countertop
So, what exactly are the features of this 5000w induction countertop top? Of what benefit is it to compact kitchens?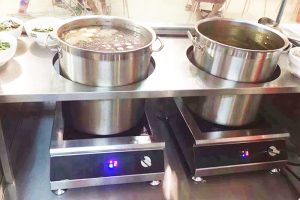 (1) Instantaneous heating, boiling water in few seconds
This 5000w induction countertop comes with a large coil wire that can significantly increase its heating speed. This high power makes it able to heat pots almost instantly as soon as they are placed on them. It is especially advantageous to compact kitchens that need to get things done as quickly as possible. With this fast heating process, you can prepare your meals, multiple meals at that, within a short time, and you wouldn't notice. This feature is one of the 5000w induction countertops' significant assets.
(2) Easy switch between high and low power
Depending on what you want to be done at a particular time, this 5000w countertop comes with a switch where you can easily opt between using high power and low power. Low power or slow heating is necessary when making milk, chocolate, some cooking seasonings, etc. Even at that low power, the 5000w induction countertop still beats other cookers for speed. With high power, you'd be making some major cooking such as stir-frying, grilling, boiling, and any different kind of cooking that requires speed and finesse.
(3) Three-hour auto-shutdown function when unattended
With the 5000w induction countertop, one of the fantastic features you will get is the safety function: the countertop induction cooktop will automatically shut off if no operation is over 3 hours. Thanks to the China commercial induction cookers manufacturers' exclusive control procedures, you can not find similar tabletop induction cookers in other countries. But with this particular 5000w induction countertop, you get 3 hours of attention transfer time, which allows you to do other cooking tasks and no worry about forgetting to turn off your device. It is especially beneficial for a compact kitchen or restaurant supplying soup. You can easily stew your soup under a low-power level. When you go back to the device after 3 hours, you find that it has stopped working.
(4) 5000w induction cooktops occupy small areas
The ability to occupy even the smallest of compact kitchens is an underestimated feature of the 5000w induction cooker. Coming in small at just 13″, this countertop is highly suitable for all flat tables or flat surfaces. It's ideal for use and storage in very narrow places.
Of course, this is one reason the 5000w induction countertop is beloved by most restaurants around the world, especially those small and compact ones. Being able to mount it anywhere easily is perfect.
(5) Easy to clean
The 5000w induction countertop is very easy to clean. It is very flat surface makes it a favorite for restaurants everywhere, especially the compact, small ones who usually don't have the time to do clean-ups.
For a countertop cooker that offers all the fantastic possibilities that the 5000w induction countertop offers, its price range is considered relatively cheap. Most restaurants and kitchens make sure to own at least one of these fantastic cookers ignoring its price tag. Of course, who wouldn't want a small portable cooktop that is extremely powerful and can cook meals very fast? Without a doubt, anywhere, the 5000w induction countertop is the best when it comes to compact kitchens.
Lestov manufactures unique 5000w induction countertops that come packed with high power and low power for slower cooking. They are suitable for all flat surfaces.