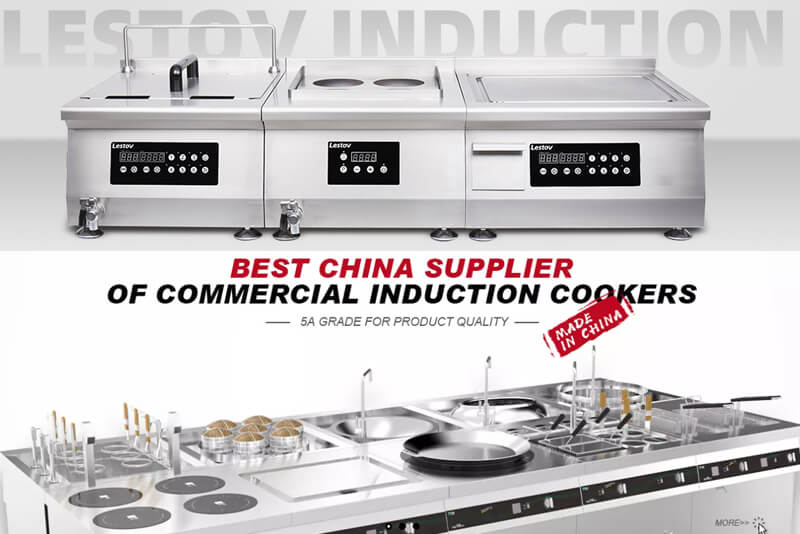 Understand the technology and principles behind commercial induction cookers
With the increasing demand for low-carbon and electrification, propaganda similar to "Induction cooking is safer, cleaner, healthier and better for the earth" began to appear. Switching to electric heating and induction cooking technology can indeed bring huge air quality benefits because some countries or regions in the Americas have already started operations. According to the National Kitchen and Bath Association, the induction omen has become a trend in kitchen design: induction is the preferred stove, defeating natural gas and traditional electricity.
Nowadays, the technology of commercial induction cooktop has developed into the only technology that can provide a full range of gas cooking benefits and enjoys a reputation. The in-depth study of this topic by engineers from a professional manufacturer of commercial induction cookers in China has simplified the difficulty of decision-making in commercial kitchens or restaurants. We also hope to benefit companies that want to use induction cookers for distribution or agency.
Contents:
What is the principle of commercial electromagnetic cooking?
Compared with gas stoves, how safe are commercial induction cookers?
Are commercial induction cookers more energy efficient than other stoves?
What are the types of commercial induction cookers?
What are the pros and cons of induction cooker (pros and cons)?
What is the principle of commercial electromagnetic cooking?
At present, the commercial induction cooker on the Chinese market is a redesigned and improved product based on the principle of household induction cooker, which solves the problem of insufficient cooking power. The rated power of a single commercial electromagnetic device ranges from 3500w to 45kw.
Its working principle is still based on the electromagnetic principle. After inputting the power, the circuit board system of the IGBT module will output a high-frequency alternating current. Alternating current passing through a large electromagnetic coil will generate a high-frequency strong magnetic field. After the magnetic field is in contact with the induction cookware, the rapid movement of the molecules inside the cookware will generate eddy currents and generate resistance to each other, thereby generating heat without an open flame.
Higher peak power means faster cooking or heating. In commercial places such as restaurants, hotels, canteens, cruise ships, food trucks, etc. (especially those that can use three-phase electricity), the induction method is not to pre-cook and serve dishes, but to help these commercial places improve their competitiveness.

The IGBT current driver (If 3-Phase electricity)
Compared with gas stoves, how safe are commercial induction cookers?
Due to the avoidance of combustion and gas lines, induction cookers are inherently safer than gas cookers. The simplest test is to put a piece of paper on the cooktop to boil water without causing a fire. Because the heating element does not dissipate heat unless it passes through a suitable metal, the area around the stove is always kept cool; moreover, because there is no open flame, accidental burns can be prevented. This is the simplest answer to the safety of desktop commercial induction cookers.
From the perspective of a professional design program, the general module functions of 380v commercial induction cooker include: rectifier filter mode, EMC circuit protection module, LC oscillation module, synchronization module, load detection module, power control module, zero-crossing detection module, high voltage protection module Cookware detection module, voltage detection module, surge protection module, low voltage protection module, temperature detection module, reset module, a current detection module, fan drive module, control, and display module, power supply module, etc. Commercial electromagnetic equipment is fully protected, with safety features and stable and durable properties that gas stoves cannot match.
Are commercial induction cookers more energy efficient than other stoves?
This is an issue related to power consumption and energy efficiency.
For commercial induction cooking, 85-95% of the heat generated is used for cooking. In contrast, for gas stoves or electric stoves, only 65-70% of the heat is used for actual cooking. This makes induction cooking more energy-efficient. Similar to a gas stove, the power and heat setting can be adjusted immediately on the induction cooker. When cooking with an induction cooktop, the accelerated cooking speed can save a lot of time. Power consumption is one of the key characteristics of induction cookers, in kilowatts/hour, it determines important operating parameters of the equipment, such as electricity consumption, heating intensity and speed, and the number of burners.
Let's look at the power consumption data from India. Taking into account the basic situation data of different fuels and cooking systems, the price of available heat (per rupee) and the comparative cost of cooking are estimated.
The following table (Comparative cost of cooking, when the electricity cost is taken Rs.3/kwh):
Another test conducted to support higher induction efficiency shows that commercial induction cookers (25Kw, 380v 3 Phase) do save electricity due to minimal heat loss.
Let's take a look at the energy-saving report of the induction cooker from Wanjiang Public Security Bureau of Dongguan City (unit price of electricity: 1 yuan/kw; unit price of gas: 8 yuan/kg).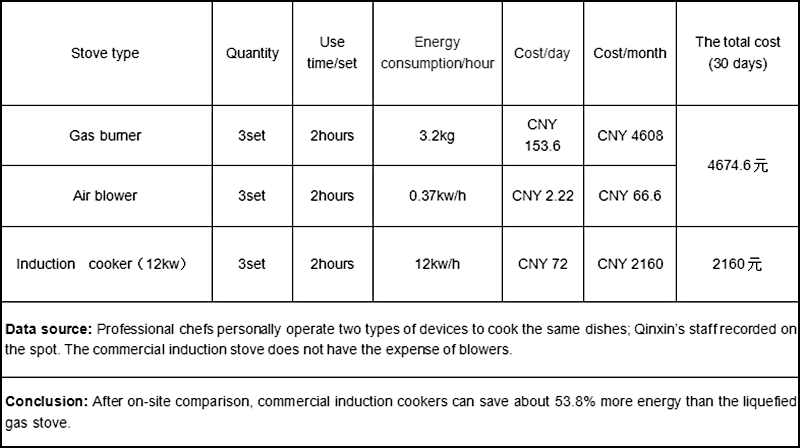 What are the types of commercial induction cookers?
Think outside the box. Use any web search engine and type in the words "commercial induction cooker manufacturer" or "China commercial induction cooker" and check what you find (really: try it in google now).
The range of applications for truly "commercial" induction cookers has become wider. As one manufacturer (Lestov factory) said: "As technology becomes more affordable and the functions of electronic products continue to evolve, you will see high-power induction cooking applications-for high-volume, rapid-production commercial or Industrial-grade venues."
Chinese commercial induction cooker manufacturers consider almost all cooking methods, such as searing, stir-frying, frying, roasting, baking, boiling, slow simmering, steaming, stewing, braising, etc. These cooking skills can be subdivided or combined through the function of commercial electromagnetic equipment so that chefs can be trained to obtain excellent results in cooking.
Therefore, the general categories of manufacturers are commercial induction cooker (used for grilling, frying, and frying), commercial induction fryer (used for frying), commercial induction griddle (for grilling), commercial grill (used for For baking), commercial pasta cooker (for boiling), commercial steamer (for steaming), commercial stockpot (for boiling, stewing), commercial induction cooker (four burners or six burners) (use For frying, stewing and stewing).
In order to meet the needs of the size of the kitchen space, you can choose between movable tabletop induction cookers, a built-in cooker, and a freestanding cooker.
Each category of stove has different rated power options. The mainstream power of commercial induction cookers on the market is 3.5kw, 5kw, 8kw, and 12kw. There are also high powerful stoves (15/18/20/25/30/35/40/45kw) are used for special purposes, such as large restaurants, factory canteens, industrial applications, etc.
By combining devices with different functions and powers, the advantages of the kitchen can be maximized.
What are the pros and cons of induction cooker (pros and cons)?
Benefits/advantages:
Instant adjust to the cooking heat
Fast cooking/heating (90%-95% efficiency)
Multiple safety protection with Intelligent control
Easy to install, use and maintain
Low carbon and friendly environment
The commercial induction cooker is much higher than the competitor gas stove in terms of energy consumption, efficiency, cooking speed, all-around safety, and ease of use.
All these factors add up to make them an environmentally friendly, money-saving device because they have a very low energy footprint (no waste heat, cool kitchens) and greatly reduce our utility consumption. Commercial induction cooker is the most competitive and increasingly valued product in future commercial kitchens.
Disadvantages:
(1) Higher initial purchase cost
This is indeed a big disadvantage, although the price has dropped a bit. If you can think that the service life of a high-quality induction cooker can reach more than 8 years, and see the benefits of energy-saving in long-term use, then you may not regret the original decision.
(2) If the power supply is interrupted, the electromagnetic equipment cannot be used.
For areas with underdeveloped or unstable electricity or high electricity bills, this is the most deadly factor affecting commercial induction cookers.
The low-temperature insulation setting is not a necessary program function for all commercial induction cookers.
High power and large size are some of the reasons that electromagnetic technology has not gained popularity immediately. The low-temperature insulation program is only applicable to small-sized electromagnetic equipment with a rated power lower than 8000w.
Among Chinese manufacturers, the level 1 power of a 3500w commercial desktop induction cooker with a single burner is about 1000w, and the level 1 power of a commercial induction cooker (3500w/burner) with 4 or 6 burners is 700w or 800w. The program of these devices is set to intermittent heating, that is, it will stop heating for 3 seconds every 3 seconds of work. The purpose is to ensure that the temperature of the food (in the soup bucket) is around 80 degrees without cooling.
(4) No "Char" open flame
This function is objectively determined by the electromagnetic principle and is a key node that affects traditional chefs from natural gas to commercial induction cookers. (No "Char" open flame)
Considering the chef's dependence on "visual" prompts, induction cooker manufacturers have implemented technological innovations that rely on the intensity of the blue "virtual flame" of the LED display to visualize the heat of the pot.
Despite this, the chefs still use gas flames with pride. The concept of gas flame has dominated the minds of these chefs.
Wrapping Up!
In China, the energy-saving technology and energy-efficiency evaluation technology of commercial induction cookers are quite mature, and the production and sales volume ranks first in the world, of which the catering industry accounts for 70%. The export business of induction cooker manufacturers is also increasing.
At present, although some countries are working hard to implement "low carbon emission" and "electrification" policies, there is still a long way to go from the most popular kitchen trend to the popularization of real commercial induction cookers. All commercial induction cooker manufacturers are working hard to improve their competitiveness and reputation, so that induction cooking technology can be used more widely.