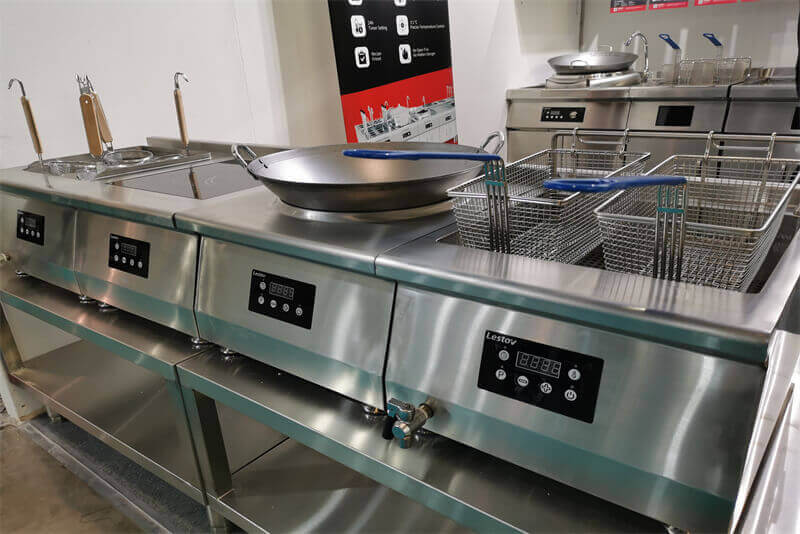 Can I use a commercial induction cooker in Singapore?
Commercial induction cookers not only appear in the restaurant kitchen equipment catalog. Also, apparently in the international trade of commercial kitchen equipment list.
Many international catering owners have proposed that commercial induction cookers could use in countries such as Singapore/Malaysia/Thailand. Induction kitchen cooking equipment could use in any restaurant with power resources.
If you want to know more about the requirements of the environment for the use of commercial induction wok cookers. Lestov's commercial induction hob manufacturers will focus on whether commercial induction wok cookers could use in Singapore. Provide you with a detailed answer.
Commercial Induction Hob Cooker in Singapore: Taking Advantage of Induction
Can commercial induction cookers be used in Singapore?
7 Reasons for Choosing Lestov Commercial Induction Cooker
As Singapore's largest export market, import source, and goods trading partner, China, which has developed manufacturing and manufacturing industries, has become more frequent in business and trade exchanges and cooperation under the initiative of the Belt and Road initiative.
China is the only country to achieve positive economic growth in 2020. it has achieved world-renowned achievements in epidemic prevention and control, which will mean a stable supply of goods and long-term cooperation and exchanges.
As one of the more mature domestic manufacturers in the foreign trade system of commercial induction cooktops, Lestov commercial induction cooker manufacturers have reached long-term cooperative relations with more than 50 countries/regions. In 2020, the first batch of 1,500 commercial induction kitchen cooking equipment will enter Costa Rica, where all renewable energy sources could use.
Lestov commercial induction cooking equipment has passed the inspection and verification of the National Electrical Safety Quality Inspection Center and the European Union CE inspection certification and purchased product quality liability insurance, which means the quality of the induction hob cooker is guaranteed.
The Lestov commercial induction cooker manufacturer has covered different types of kitchen engineering equipment such as commercial induction deep fryers, commercial induction steamer cookers, automatic stir-fryers, commercial steamer ovens, and stir-fryer machines to meet Singapore's Hainanese chicken rice, Bak Kut Teh, satay beef, chili crab, and other food production requirements.
Singapore is close to the Chinese Hainan Province and has advantages in shipping and logistics transportation. You can receive the goods within 4-7 days through cheaper sea freight. If you want to know more about the best way to transport induction range cookers, we provide you with a way to transport induction cookers from China.
Singapore implements a zero-tariff policy for more than 95% of goods. Except for alcohol, tobacco, sugar products, and refrigerators, the calculation method of tariff = (freight + value) * 7% is implemented.
Singapore's hot-selling commercial induction cooker in 2023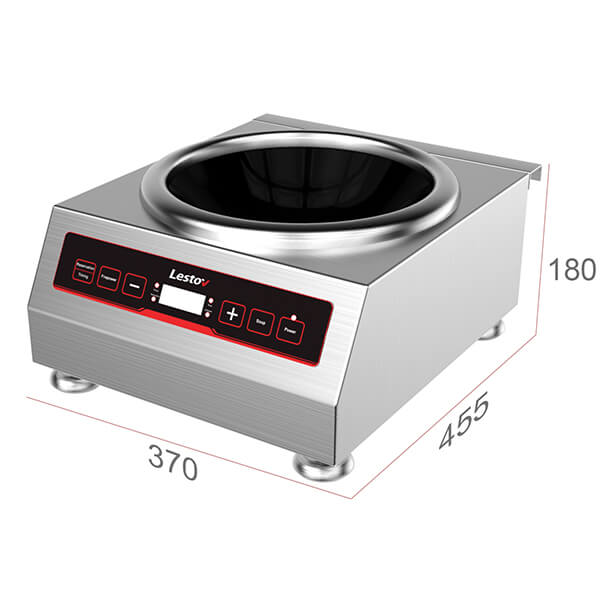 It could carry almost anywhere. If you are a camping enthusiast or are buying portable commercial induction wok burners for your restaurant/commercial kitchen, this will be a good choice.
That will be suitable for equipment purchase requirements with a small kitchen space/compact kitchen.
Although it is a small commercial induction wok cooker, it can fully carry a cooking capacity of 8.4L, making chili crabs, satay beef, and other fast-fried foods for you.
If you are looking for a large-capacity stock pot for boiling soup, the flat-bottom induction commercial stockpot is an option worth browsing.
The capacity of a 58L soup bucket can almost satisfy all kinds of cooking meat, soup, sauce, milk, etc.
The fully automated cooking design is automatically completed in stewing, pouring soup, and temperature control.
If you are operating a Chinese restaurant or ramen restaurant, you need to know the importance of soup to diners, especially for diners in Guangdong, Fujian & other places.
That will be suitable for the production of Hainanese Chicken Rice, Nasi Lemak, Bak Kut Teh & other delicacies.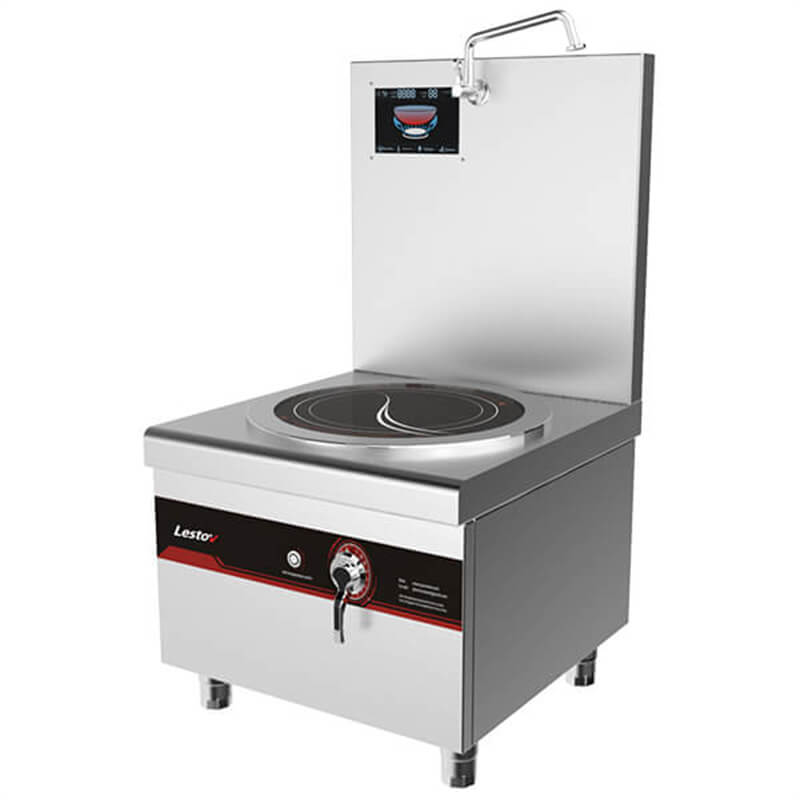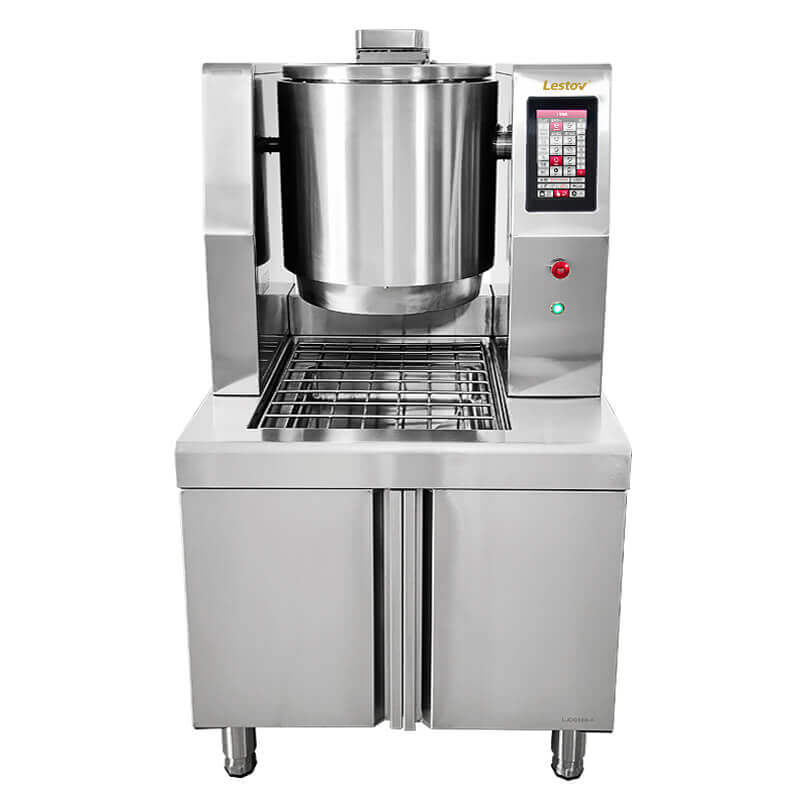 The intelligent cooking machine is suitable for restaurants, canteens, hotels & other places with large passenger flow and few chefs.
It can automatically complete the cooking of dishes in 3 minutes without special care, which is an advantage that couldn't ignore.
The internal recipe memory stores almost all the cooking time, power, and temperature, and even provide you with thousands of recipes to choose from.
Even a novice in the kitchen who does not know how to cook can be fully qualified for the position of chef.
Conclusion
Commercial induction cookers can not only be used in Singapore but also comply with Singapore's policy requirements for the development and use of new energy.
Lestov provides you with a catalog of kitchen equipment such as commercial induction food steamers, commercial induction pasta cookers, food truck induction deep fat fryers, and commercial built-in induction hobs. If you need to purchase other electromagnetic kitchen equipment, please visit our website https://leadstov.com/