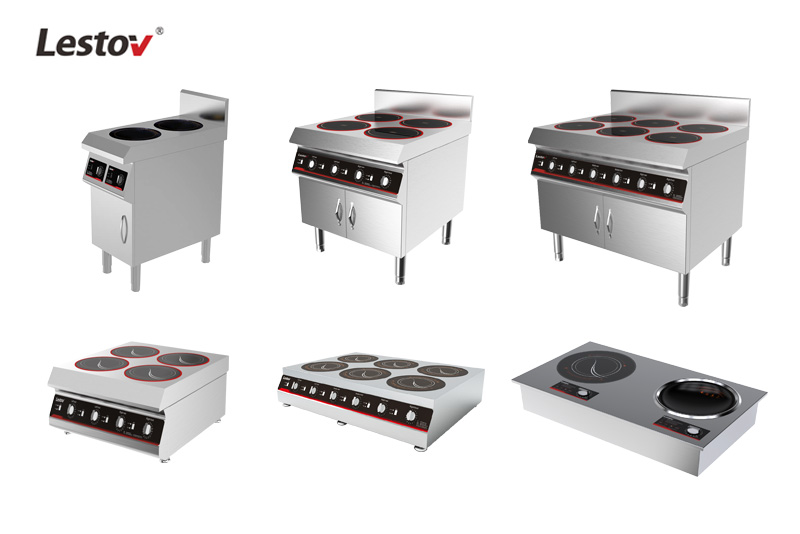 The Best 6 Induction Hobs For Sale-Buying Guides
How to make your commercial kitchen meet the needs of cooking multiple foods? You may think of buying induction/gas/electric hobs with multiple burning areas. That is a significant investment in kitchen equipment.
Surprisingly, commercial induction hob manufacturers-Lestov can fully meet your needs for more cooking areas, functions, and efficient induction hobs.
What is an induction hob?
Induction hobs are multifunctional hob machines that support ceramic or stainless steel materials such as single/2 ring/3 burner/4 ring/6 ring.
You can choose a freestanding large induction hob or small countertop induction hob according to the size of a commercial kitchen. The induction hob will fully match the catering to cook a variety of foods at the same time.
How do induction hobs work?
Induction hobs work in the same way as induction cookers. Induction hobs directly release heat energy to the bottom of the cooker in the form of no open flame, which is superior to gas hobs and portable electric hobs in terms of heating speed and thermal efficiency (95%).
If you want to know more about how do induction hobs work? You can read the related blog: Working Principle & Advantages of Commercial Induction cooktops.
Induction VS electric hob?
When we were discussing induction VS electric? What you need to know is that induction hobs and electric hobs also use electricity as energy.
The only difference is that induction hobs use induction technology that heats faster and has higher thermal efficiency. Induction technology is far less than electric hob in terms of use cost and energy consumption.
An obvious example, it takes 5 minutes and 47 seconds for an electric hob to boil six cups of water, an induction stove only takes 3 minutes, and an induction stove with 95% thermal efficiency is far better than an electric hob with about 75%.
You can choose induction or electric hob based on your needs. The above are only tips from commercial induction furnace manufacturers. Its product is used lower cost, faster heating, and higher efficiency.
induction hobs pros and cons
Induction hobs also provide you with the best in terms of accessories and functions. That is incomparable to electric hob and gas hob.
Black crystal glass
The cooking area of Induction hobs adopts a 6mm thick ceramic (German professional black crystal glass) panel that can withstand high temperatures of 800°.
It achieves 95% accuracy and efficiency in heat conduction and heat transfer, which is relatively vulnerable to gas hob heaters and electric hobs.
It will be an efficient kitchen equipment option for a long time of the electricity-consuming heating process.
LED display
You can see the power, temperature, time, and energy consumption during the operation of the commercial induction hob on the LED display of the cooker hob, without the chef using experience, thermometer or timer on the gas hob to control the food cooking process, thereby reducing the cost of mistakes caused by the chef's improper operation.
Stainless steel European style interchangeable foot
Allowing the chef to adapt to the height of the kitchen equipment seems to be the default fact, but in the stainless steel height of induction hobs, this is unnecessary.
The stainless steel height of the commercial induction hob can be adjusted from 170mm to 210mm, to adapt to each chef, and avoid bending or collapsing to cause lumbar muscle strain.
Multiple cooking zones
If your restaurant receives urgent orders for six different foods at a while, what do you need to do? Do you arrange for six chefs to cook at the same time on six kitchen equipment? Or a long cooking process by a chef alone? Just imagine, this will be flustered and costly cooking.
Why not try to make different foods with a while on induction hobs with multiple cooking zones such as single/2 ring/3 burner/4 ring/6 ring.
Automated operation and a cooker hob with individual control of the cooking area will be the best solution for your busy orders.
Locker
The built-in hob (portable induction hob) and freestanding large induction hob produced by commercial induction hob manufacturers have independent storage cabinets under the cooker hob.
The locker has a good effect on the maintenance and heat dissipation of the induction hob. You can even install a built-in oven under the locker to achieve the combination of an induction hob with oven dual-function cooking equipment.
commercial induction hob function
Independent component control
Why many chefs dare not try multi-cooking area induction hobs? Cause they are worried cooking areas are controlled by one operating element.
That will be an irreversible cost loss when there are fewer orders & some cooking areas need to be closed.
Every area of the induction hob(whether it has a single/2 ring/3 burner/4 ring/6 ring ) has a separate control element. It controls the power, time, and switches off each cooking area.
You can individually turn on/off an area according to your cooking condition, that better serve your cooking orders.
Flexible firepower settings
The induction hob's 8-speed converter can meet the power requirements of different foods. But cannot be achieved by the gas hob with manual power control by the chef.
On the induction cooker hob, only one button is requiring to complete the operation.
You can easily control the effect of each kind of food, that don't need to look after the single/2 ring/3 burner/4 ring/6 ring cooking area of the induction hobs separately.
Instead, it is automated by the induction hobs that only allow the temperature to be accurate to ±1° operate. That would be high-quality kitchen equipment that saves time and cost.
safety protection
When you open a news website or Google Chrome, you may have seen much news about gas hob casualties caused by gas leaks/explosions, kitchen ruins, etc.
That is a potentially dangerous (gas poisoning) gas hob that cannot be ignoring disaster alert.
Fortunately, the induction hob, which has multiple protection devices such as timing settings, high-temperature protection, voltage normalization, and waterproof insulation cover of electrical junction boxes, can avoid more than 90% of accidents caused by kitchen equipment.
disadvantages of induction hobs
It is undeniable that induction hobs with multiple functions, high-tech components, and multiple advantages are more expensive than gas hob/electric hobs, which are disadvantages of induction hobs.
But using the price to measure whether induction hob becomes your restaurant kitchen equipment option is an imprecise consideration.
Imagine buying a gas hob with a potential explosion risk at a slightly lower price and abandoning the cost-effective, high-quality, and efficient commercial induction burner. It will be a failed investment.
How to use an induction hob?
How to use an induction hob? That will not be a complicated operation. The commercial induction hob manufacturers(Lestov) will give you a detailed video/blog introduction.
4 Burners Separate Control Commercial Induction Hob Cooker - Lestov
Which induction hob/hobs are for sale (which best buy induction hob)?
That is a hot-selling induction cooker 2 burner, which has a double induction cooktop (2 ring induction hob). You can choose two flat induction cooktops or one flat and one concave dual induction cooktop on the induction hob double.
You can complete frying and stir-fry cooking on an induction cooker with two burners. This countertop commercial Wok stove is perfect for cooking food with the stir-fry method. 2 ring induction hob is suitable for homes, restaurants, food trucks.
The induction hob four rings have options of large induction cooker four burners and tabletop induction hob four rings.
The small commercial four-ring induction cooker solves the problem of cooking four kinds of food at one time in a small restaurant/family kitchen.
The large induction cooker with four stoves is the cheapest induction cooker with the most acclaimed and best-selling items.
The induction cooker also has high-quality performance in terms of functions, such as eight-speed power conversion, adjustable European-style legs, digital display, etc., suitable for cooking, such as frying, stewing, and boiling.
This large-scale induction cooker 6 zone uses stainless steel and ceramic materials that are easier to clean and is equipped with eight large-flow cooling fans, even though the induction cooker only has 5% waste heat. An induction cooktop is perfectly suitable for milk, sauces, stir-fries, and fried steaks. Buy now for your commercial kitchen.
Commercial induction hob manufacturers support the product customization requirements of 5 zone induction hob and a three-burner hob.
Induction hob 5 zone and three-burner cooktop are consistent with single, two rings, four rings, and six rings in function & accessories.
You can choose the hobbing machine suitable for your actual needs/kitchen space.
Try to use induction hob to increase profits for your commercial kitchen. That is the most significant induction cooker hob purchase reminder given to you by commercial induction hob manufacturers.