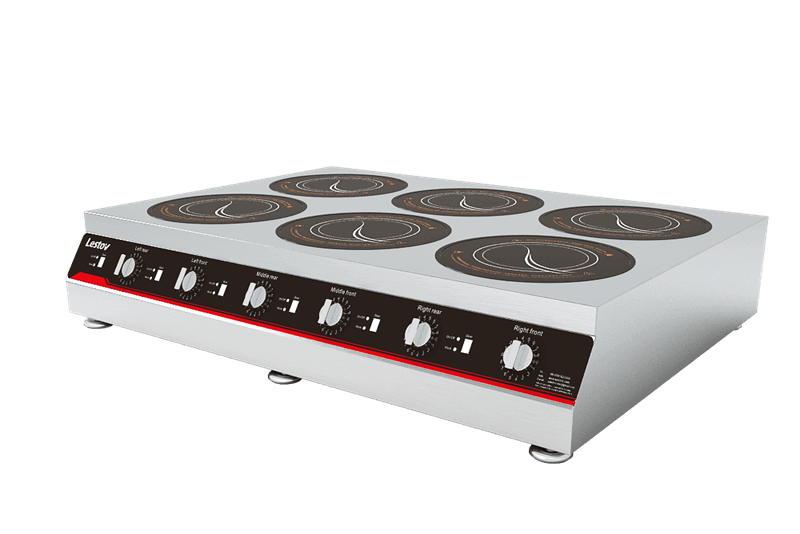 Best Commercial Induction 6 ring Induction Hobs-Lestov
As the world continues to pursue low-carbon and electrification, almost everything, propaganda, and agenda are very similar to the concept of induction hobs that are safe, healthy, and more suitable for use on the earth, so they began to surface.
From direct electric heating to commercial induction cooking technology, these best induction wok hobs brings many benefits to users. Some countries have already adopted this approach, and it has worked well for them.
According to the report of the National Kitchen and Bath Association, the enthusiasm for induction hobs has become a significant trend in kitchen design and demand. People now prefer induction cookers to gas stoves or even electric hobs.
In Present. The technology of commercial induction wok burner is not only integrated and provides all the services provided by gas cooking, but It also creates a reputation for itself with its numerous burner stove designs.
In-depth study of this topic, professional people and induction hob brands have been able to simplify and determine why the demand for commercial induction cooktops is high, and the full significance of commercial induction 6-burner induction cooktops. That is to help restaurants, commercial kitchens, and catering understand the products they provide and use.
How do six ring induction hobs work?
At present, the commercial induction hob cookers on the Chinese market are improved products based on the principle of traditional household cooker hobs (a purpose to solve the problems of power and cooking capacity).
Commercial 6 ring induction hob works on the same principle as induction hob single. After you input the power, the circuit board system of the IGBT module will produce a very high-frequency output.
Then the alternating current passing through the large magnetic coil will generate a high-frequency magnetic field.
After the magnetic field is in contact with the induction cookware for a while, the rapid movement of the molecules inside the cookware will generate eddy currents.
It would be generating resistance to each other, thereby generating pure heat without any open flames.
The rated power of Induction hobs ranges from 3.5Kw to 45kw, which is different from household induction hobs whose power is between 800W and 2200W. Therefore, the commercial induction stove burner is high-power equipment specially designed for large kitchens such as restaurants, canteens, ships, etc.
It is worth mentioning that Lestov has developed a commercial countertop induction stove burner for home use. If you need to cook more food in the kitchens, and the voltage meets commercial requirements, the 220v tabletop induction wok stove is worth buying.
Commercial induction hob 6 zone VS six-burner gas hob (safety)
Due to the high degree of avoidance of gas pipes and combustion, commercial induction hobs are safer than gas hobs.
To confirm this test, place a piece of paper on any ceramic cooking area to boil water without causing any fire.
The heating element in a commercial 6-ring induction hob cookware does not emit heat until it passes through the magnetic cookware.
It means that the area around the commercial stovetop will remain cool (there is no open flame anywhere, so it is easy to prevent accidental burns).
That is the easiest way to test the safety of a commercial induction six-burner stove.
From the perspective of professional design solutions, the general module functions of commercial induction cooker hob include stainless steel structure (IPX4 waterproof level), 180V-400V voltage bearing, Germany's top IGBT-Infineon, eight gear power converters, and In case of over-temperature, voltage disorder, automatic detection of shutdown protection, etc.
The commercial induction catering equipment is thoroughly protected and equipped with safety functions and stable and durable features that gas burners cannot provide.
Is the six-burner commercial stove more energy efficient than other stoves?
In commercial induction cooking, 95% of the heat is used for cooking. On the other hand, gas stoves or electric hobs use only 65% of the heat generated during cooking. You can easily distinguish the difference in energy consumption between induction hobs and gas hobs.
Why are induction stoves more energy efficient? That will be the combined effect of the eight gears unique to the induction cookware under the precise adjustment of the firepower and power, the double-layer concave energy-gathering coil continuously and efficiently outputs heat, and the LED display automatically displays the power and the firepower.
Which is the best buy six induction hob?
You can choose the vertical large 6 ring induction hobs or the tabletop 6 burner induction cooktop according to the kitchen space, usage requirements, and the number of diners. They have the same treatment in terms of function, configuration, and components.
Large induction hob 6 zone uses stainless steel and ceramic materials that are easier to clean and is equipped with six high-flow cooling fans, even though the induction hob cooker only has 5% waste heat. A freestanding induction hob is more suitable for restaurants, ships, and Large commercial kitchens such as hospitals (more people diners).
If you need to cook six kinds of food at the same time in a compact commercial kitchen, this countertop six-ring induction hob will be very suitable. You can see the precise power display, cooking time display, and error code on the LED display of the six-burners commercial stove. That will be your intelligent kitchen equipment.
Lastly
Try to get cooking inspiration from the induction cooker, this looks incredible, and it just so happens that the multifunctional induction cooker menu can give you.