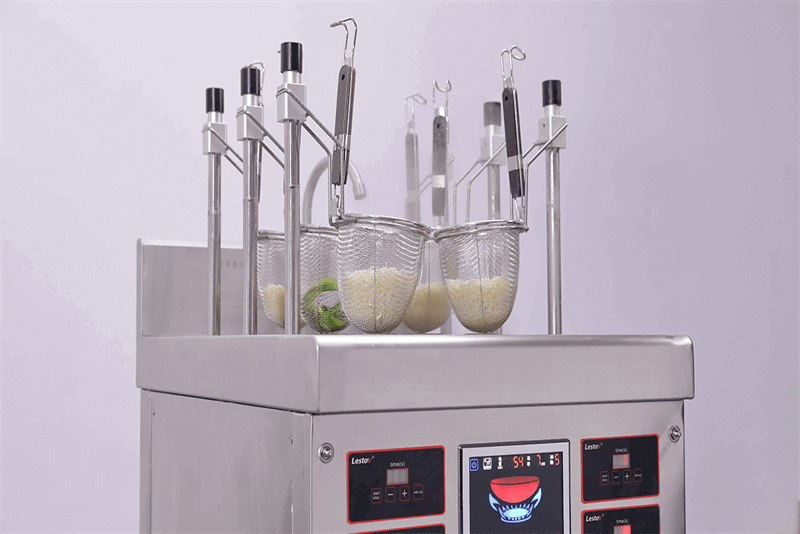 The Best Commercial Pasta Cooker For Sale-2021
Few people can completely resist the mellow flavor of pasta/noodles. It could be enjoyed in restaurants, food trucks, food stalls, or at home. That is a quick and delicious menu choice.
Just as pasta pots are a low-cost and high-quality investment that can solve compact kitchen space, although it can automatically and accurately cook large quantities of pasta with the perfect taste, it is sold at the most affordable price.
Please do not hesitate to contact the induction pasta boiler supplier-Lestov with 17 years of manufacturing experience to obtain a noodle cooker with high efficiency and low consumption.
The most primitive noodles appeared in China more than 4,000 years ago, but they have not been promoted due to low crop yields and limitations in production techniques.
Until the Eastern Han Dynasty, chefs specializing in cooking pasta appeared in the palace. At this time, the pasta appeared in the form of a cake. In the Song Dynasty, a variety of noodle products were derived, and the name was a noodle.
At the same time, the Romans more than 2,000 years ago were eating a kind of pasta called Iagana, which was the original form of spaghetti and is now a staple food of Italians.
The Arabs spread spaghetti and noodle all over the world through trade, that people have gradually enriched the types, sauces, and recipes of pasta.
Therefore, it was believed that noodles were invented in China more than 4,000 years ago, it has become a different representative of the noodle world. It is accepted and loved.
Pasta pots are a kind of kitchen equipment for cooking pasta. It usually has multiple pasta strainers on a round or square boiler water tank for cooking different spaghetti, noodle, and crawfish.
Pasta pots are using in commercial kitchens such as restaurants, food stalls, hotels, and industries.
Therefore, the pasta station has developed a commercial pasta cooker that meets the needs of commercial kitchens to cook large quantities of pasta orders.
A commercial pasta cooker is high-power kitchen equipment that combines high-efficiency induction technology with traditional pasta cooking techniques.
The pasta boiler with 2/4/6/9 spaghetti strainers can match the order requirements of different pasta cooking. It is an instant pasta pot that can accommodate 2/four/5/6/8/19 quarts.
Surprisingly, you can rely on the commercial automatic pasta maker to complete the cooking of spaghetti without the chef's attention and time on the pasta pan.
That is an automatic pasta machine that supports the pre-storage of cooking time, power, and temperature to give you the advantage of increasing profits.
Why choose a commercial induction pasta cooker?
An induction pasta pot is the only commercial kitchenware that uses all heat to cook noddle, crawfish, spaghetti, Mala Tang, and other foods, just like the induction cooker brand-Lestov focuses on the production of commercial kitchen equipment.
If you have tried the gas pasta cooker for cooking with an open flame and the electric pasta cooker for cooking food with a long heating time, you will find that it is hard to concentrate the heat/heat on heating.
For induction pasta pots with instant heating and non-open flame cooking, cooking 2/4/6/9 types of spaghetti in 3 minutes is economical and efficient (95% thermal efficiency) cooking.
Why is the commercial induction pasta cooker efficient kitchen equipment? Perhaps you will get a specific answer after understanding the accessories and functions of the induction pasta pot.
pasta boiler parts
Double-layer concave-shaped energy-concentrating coil
The induction pasta pot can absorb 95% of the heat due to the choice of a double-layer concave energy-gathering coil.
That is a concave energy-concentrating coil with a larger copper wire diameter, more heating coils, and better thermal conductivity than household induction furnaces.
It can provide continuous, stable, high-frequency heat output for induction pasta boilers, to better meet the needs of commercial kitchens for high-quality and high-efficiency products.
You may have tried to be annoyed by unstable flames while cooking pasta. You cant control the blisters that overflow when the pasta boiler machine is boiling, and you cant help burn the colorless temperature.
If you cook pasta at an unstable high or low temperature, it will be easy for the pan or the pasta to be undercooked.
When the pasta is cooking, stable and high-frequency heat output is required. That is an important reason why the Lestov induction pasta pot is equipping with a double-layer concave energy-collecting coil with better heat conduction, stable output, and precise control.
The decisive factor for Lestov induction pasta pot to realize automatic cooking. It has multi-function menu options & fire control is the application of Germany's top IGBT-Infineon.
the precise code input by the Lestov R&D team to help you better control the noodle boiler The cooking process.
The commercial pasta cooker with six menu options supports the pre-stored cooking power, temperature, and time of various pasta.
You don't need to arrange for a chef to take care of the cooking process of the pasta boiler pot. Instead, it relies on an automatic pasta strainer, boiler thermostat, holder to control the pasta. Mature.
Triple anti-radiation enclosure design
Even in the face of a pasta boiler pot overflowing soup or working in a humid kitchen environment, the commercial pasta cooker with IPX4 waterproof level (resisting the impact of splash water) can still operate normally without damaging the internal components/explosion.
That is the unique advantage of the induction pasta pot with all stainless steel structures. It is worth mentioning that the commercial noodle cooker with a triple anti-radiation shell design may be able to reduce your concerns about electromagnetic radiation, even if electromagnetic radiation is only one-sixtieth of mobile phone radiation.
The easy-to-clean stainless steel material will provide you with a simple and quick solution to the problem – how do you clean the KitchenAid pasta attachment? Even for small pasta boiler parts such as safety valve, faucet, drainer, Lestov also provides you with 304 food-grade stainless steel/201 material options.
No one is willing to clean up the wastewater and residues of the pasta cooker commercial. If there is no safety valve with drainage function, this will be a time-consuming action.
You can use the safety valve and boiler pipe on the front of the Induction boiler cooker to discharge wastewater and clean up stains.
It is made of durable, heat-resistant 304 stainless steel material, thereby reducing the stay of residue and the breeding of bacteria, helping you complete the drainage task of pasta pot induction faster and easier.
pasta boiler function
Six groups of menu options
Why can't you always cook perfect pasta? Maybe because you lack a large pasta pot with 6/9 menu options.
It does not require you to individually memorize the power, time, and temperature of each pasta sheet during cooking. It actively stores and supports functions such as constant temperature and appointment timing for you, and displays it on the LED display.
Completely humanized and user-friendly intelligent design, even if you do not know how to cook pasta, you can also provide delicious pasta for your customers and family.
It is worth noting that you can control each pasta strainer individually, it is not all strainers are controlled by a single functional group.
eight levels of firepower adjustment
Without any experience in controlling firepower, each serving of pasta can get the same power service. That will be the perfect display of a commercial pasta cooker's power adjustment in 8 positions.
The precise adjustment of the power from 700W to 5KW, to be competent for the unique temperature control required by each noodle. It is a pasta cooker machine worth considering.
Water shortage alarm device
You don't need to spend too much attention monitoring the water level of the pasta boiler. That should be the task of the water shortage alarm device.
The Lestov induction pasta pot still has many commendable protection devices, such as the automatic shutdown of the body after over-temperature, pasta pot, unstable voltage, and three hours of operation.
Try to use an induction pasta pot that is efficient, safe, multi-functional, and low-consumption to add a profitable pasta menu to your restaurant.
How do know when pasta is done?
That will vary from person to person. Generally, the pasta should remain slightly elastic when cooked, and the pasta has the best taste at this time.
Unless you are elderly or a child, the cooking time of pasta is recommended to be kept within 8-13 minutes. Of course, if it is macaroni, sliced noodles, hand-made noodles, etc., a longer cooking time is required.
Please do not try to rinse the cooked pasta in cold water. That is only applicable to Korean noodles/cold noodles. The rinsed pasta will lose the starch that can adhere to the sauce.
Yes, you can steam the spaghetti in a steaming tray to get the most original, healthy, and low-fat flavor experience of the noodles.
Just like Lestov's desktop high-temperature steaming cabinet, it is suitable for steaming almost all foods, including seafood, rice, vegetables, steamed buns, dim sum, lobster, etc.
Please do not limit the product to specific functions, which will waste the multi-function menu design given to you by the induction cooker.
Try to use induction hobs to discover more menu options. It can also become a potential advantage for your menu.
commercial pasta machine for sale