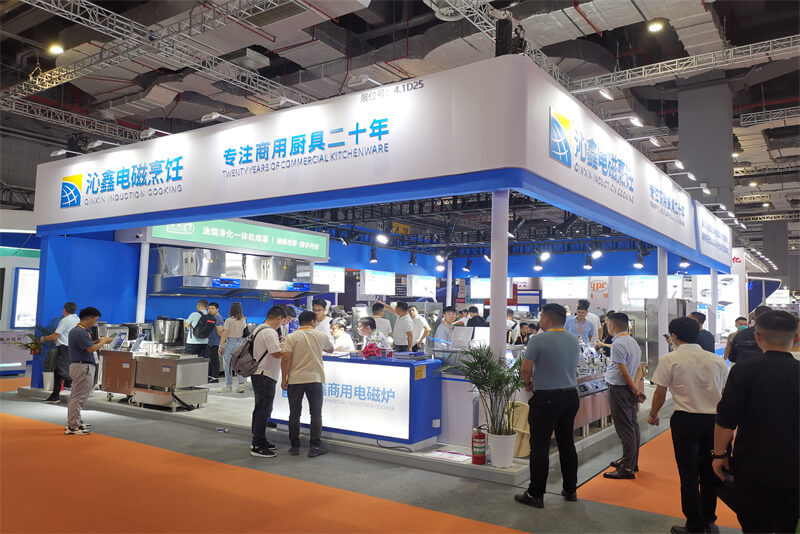 Review The Lestov commercial induction cooker manufacturer at 2023 HOTELEX
If you are looking for reliable manufacturers of commercial cooking equipment, please don't miss the grand event of the 2023 Shanghai HOTELEX exhibition. HOTELEX gathers all professional catering / Hotel and Restaurant supplies, equipment, and machinery suppliers in China, which means that you can appreciate, experience, and apply the most professional equipment in China's catering equipment industry at one exhibition. It is a rare opportunity, and it has attracted more than 250,000 kitchenware dealers and restaurateurs.
The 2023 HOTELEX exhibition will be held at the Shanghai National Convention and Exhibition Center from 2023/5/29 to 2023/6/1. Lestov commercial induction cooker manufacturer carries 40 types of induction cooking equipment, automatic cooking machines, ventilation equipment, and Convection steaming ovens, which have been favored and purchased by visitors.
2023 HOTELEX classic continuation, covering kitchen equipment and supplies, desktop supplies, catering ingredients, comprehensive food, comprehensive beverages, coffee and tea, ice cream equipment and raw materials, baking equipment and raw materials, comprehensive wine, food and beverage packaging, catering design and There are 12 exhibition sections including supporting facilities, chain franchise, and catering investment.
Exhibits of Lestov manufacturers
As the first manufacturer to launch fully automatic cooking equipment in China's catering equipment industry, Lestov has developed / Designed / Produced various types of multi-functional automatic stir-frying machines. With 800 to 1000 programmed recipes, the Lestov Automatic Cooker automatically cooks, seasons, pours, and cleans. It means you don't need to spend on chef training, hiring, and salaries to get high-volume dishes of standard taste & quality. It's a solid deal and got approval from many restaurateurs.
The choose from Panda Express
If you're an American, Singaporean, or Canadian, automatic stir fryers are no stranger to you. You'll find self-rotating wok cookers on many US stove sites. It means that automatic cooking has become an unstoppable trend, especially with the high cost of hiring chefs, the difficulty of hiring chefs, and the encounter with takeaway services.
For most residents, Panda Express is a familiar Chinese restaurant. Recently, Panda Express introduced an Automatic stir fryer, automatic frying pan, and robotic cooking machine. They are used for stir-frying noodles, fried rice, and cooking large batches.
Concerns about automatic cooking machines
At HOTELEX 2023, the Lestov automatic cooking machine won the favor of many visitors. They expect it to stir-fry enough food to serve more diners. During the show, Lestov discovered an interesting thing. One visitor had a great interest in Lestov automatic cooking machine but he also maintained strong concerns. He's not sure if this device will work for his restaurant. Do we already have customers buying locally? How to repair it if something goes wrong?
The government promotion of automatic cooking machine in Singapore
Lestov gets an important discount message from a visitor from Singapore. If your restaurant is located in Singapore, don't miss out on this promotion. It is understood that the Singapore government has set up an E2i Grant policy for enterprises and restaurants that use automation equipment. The policy will fund 50% of productivity improvement costs for businesses using automated equipment, capped at $1 million in labor costs.
Why choose the Lestov manufacturer?
As a commercial induction cooking equipment manufacturer participating in Shanghai HOTELEX consecutively, Lestov has won large quantities of purchases from kitchenware distributors, chain restaurants, and hotels from 75 countries. At HOTELEX 2023, we exhibited commercial desktop induction stoves, Chinese induction woks, automatic noodle cookers, and convection steam ovens.
Among them, the 6-hole automatic noodle cooker has won the favor of many American restaurateurs. It can automatically boil noodles according to the preset cooking time, and automatically raise and lower the noodle strainer basket. With a built-in timer, temperature sensor, and power button, it helps cooks automatically boil 6 servings of pasta in 8 minutes.
The 2023 Shanghai HOTELEX exhibition has ended, but the supply of the full range of commercial induction cooking equipment from the manufacturer Lestov to restaurateurs will not end.