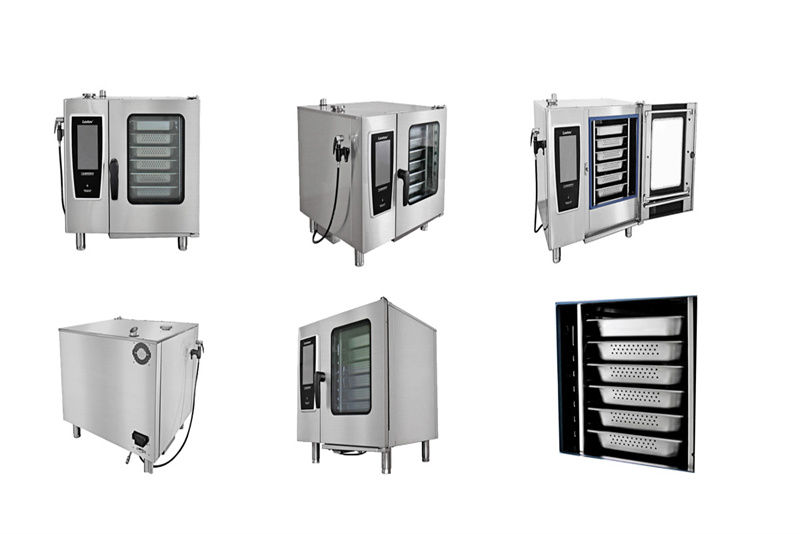 The oven can steam fish?-Lestov commercial convection steamer oven
A toaster oven can steam fish, is that possible? That does not sound like anything else is possible. A roaster oven is the cooking equipment for baking bread, turkey, cake, and the furnace temperature reaches 300℃; If the fish is put in an electric roaster, it may be crispy baked fish rather than delicious and tender steamed fish.
Many catering kitchens, restaurants, and industrial s choose different cooking machines s according to different cooking methods of food; a freestanding food steamer for steamed rice, seafood, and bun; and an electric deck oven for baking turkey, chicken wings, and cupcakes. Choose the corresponding cooking equipment according to the cooking method, and you can get a good steaming / baking effect.
Perfect effect = high cost?
But there is no denying that purchasing different cooking equipment means that you need to spend more budget, which is not the first consideration for consumers pursuing cost-effective, multifunctional cooking equipment.
To help more restaurant owners get multifunctional, intelligent, and cost-effective cooking equipment, Lestov has developed/designed/produced a commercial convection steam oven. It has 3 steaming modes, 100 sets of edited pre-stored recipes, and a 90L / 150L large capacity design.
You may have seen a lot of commercial multifunctional convection steamer oven information on the shopping platform, so you may think, What are the advantages of the Lestov commercial steam oven that is worth buying?
Why did you choose Lestov commercial combi-steam oven?
Manufacturer
As a manufacturer of commercial induction cooking equipment with 18 years of independent research/development/design/marketing / after-sales experience, Lestov has provided kitchen equipment to many well-known catering brands such as "True Kung Fu" And Panda Restaurant" "Moutai Group" and so on. You can get a cost-effective, quality assurance, all-time pre-sale shopping experience at the factory price.
Converse steam roast
Unlike an electric range oven and rice steamer, it cannot evenly transfer heat to each layer of the roaster pan. Where the skin is ripe, but the food is not cooked. You can only extend the heating time or raise the temperature to achieve a uniform maturity of the food.
The Lestov commercial combination steam oven uses a convection fan to transfer heat evenly to each layer of the roaster pan, promoting the rapid and uniform maturity of food, while shortening the steaming and roasting time.
Important: Because the convection steam toaster oven can be baked quickly and evenly, it needs to lower the baking temperature or shorten the baking time to a traditional baking oven to avoid excessive steaming.
Professional Commercial
As a professional commercial induction cooker manufacturer, Lestov makes freestanding convection steam ovens and other cooking machines set of large capacity, high power, high efficiency, and low energy consumption.
Lestov commercial convection countertop steam oven not only matches the demand of restaurants to make multiple batch orders with the large capacity design of 6 plate 90L. You also can choose the steam toaster oven of 10 plates 150L.
Lestov commercial induction catering equipment is made of high-quality accessories and durable stainless steel material, achieving a thermal efficiency of 90% to 95%, achieving stable, efficient, and safe operation.
3 steaming and baking mode
Lestov commercial multifunctional steamer oven can choose 3 cooking modes: separate baking, steaming, and baking; such as steam operation mode (30℃ -130℃), hot air (convection) operation mode (30℃ -300℃), and steaming combined (30℃ -300℃); humidity, temperature, time and power can be controlled and set in stages.
100 Editable Recipes
Smart recipe mode can edit and save 100 baking recipes and set 5 steps; customize baking parameters such as time, temperature, humidity, etc. After 5 minutes of Lestov commercial convection steam oven, the temperature reaches 300℃, the humidity reaches 100%.
3 types of automatic cleaning mode
Unlike traditional commercial roaster oven, which requires manual cleaning, Lestov commercial convection steam oven has a 3-weight automatic self-cleaning mode. You can choose different modes according to the cleaning needs of the oven, and truly realize the equipment automation, intelligence, and multifunctional, to free your hands.
Last point of view
If you buy commercial induction cooking equipment for steaming, baking and steaming. It is a cost-effective purchase. It is intelligent and accurate control, 100 editable baking recipes, and 3 automatic cleaning modes. It can provide a simple operation, time, effort, and low-cost experience for your restaurant when making multiple batch dishes and pastries.