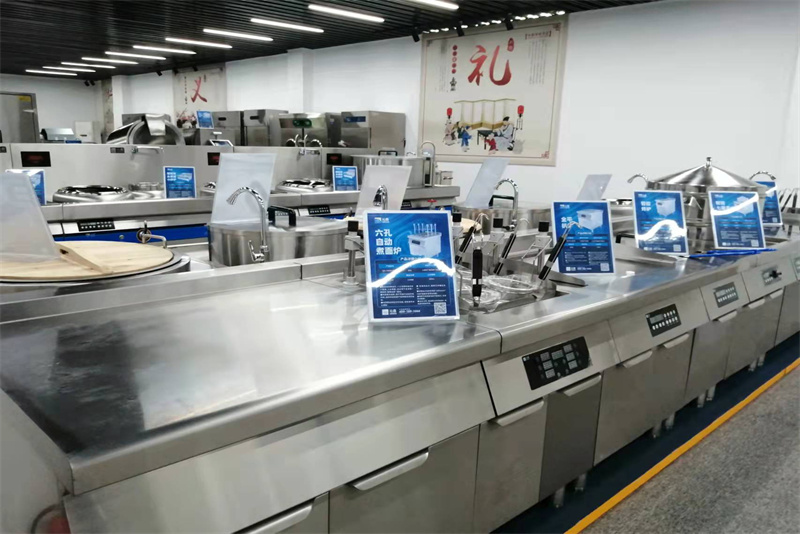 Good-quality commercial induction cooktops lose the game–6 reasons
Commercial induction cooktops have emerged and integrated into the kitchen burner market. On shopping sites such as Amazon/target, many types and custom designs of induction range cookers are purchased by restaurateurs/distributors/food lovers alike.
They have a gas stove/electric hob, a frying machine, Chinese wok, steam cooker, stockpot, pasta boiler, baking oven, automatic stir fryer, and other kitchen cooking equipment. It is for meeting commercial establishments such as restaurants/canteen/bar/industrial.
In private customization/OEM, etc., it has the professional ability of independent research and development, independent design, independent production, and all-day after-sales.
In compact commercial kitchens/households and industrial/food factories with complete production lines, induction cooker supplier provides solutions such as large freestanding commercial cookers or small countertop (portable) induction cooktop stoves.
Even the choice of different materials such as 304/201 stainless steel, cast iron, ceramic, etc., induction stove brand allows them to participate in the design category of cooking cookware, and provides you with tidy, high-end (beautiful), easy to clean Commercial kitchen experience; stable operation in humid/hot environment with Humidity 30%-90%; Temperature -5℃-40℃.
Induction burner cooktops are the real deal. They are kitchen cookware that makes cooking fun. They make the whole cooking process so easy, and in a commercial kitchen, they can help you reduce the number of employees you have to hire. Commercial induction range cooktops are fast, reliable, and very efficient.
They can cook the best meals, and they are eco-friendly. So what is the problem? Why are induction cooktops better in many ways, and why are gas stove burners still widely used? In this article, Lestov commercial induction hob manufacturer will look at some of these reasons.
Cookware Problem
The Commercial induction electric cooktop is a dream to own and use, but it comes with complications. How to use it effectively? You have to use its specific induction cookware. It means that for induction kitchen equipment to heat whatever is cooking, you have to use magnetic cookware, usually made of ferromagnetic material.
The commercial induction cooktop is a catering kitchen appliance that can only react with magnetic cookware. You could use magnetic materials such as stainless steel & cast iron can generate alternating magnetic fields with copper wire reels to heat food.
Non-magnetic materials such as aluminum, glass, and enamel can cause non-heating, cracking, or even damage to the induction wok hob after contact with the cooker. As such, it was denied entry into the range of cookware that could be heated by an induction hob.
Of course, you can complete the heating by placing it on a thermally conductive glass panel with the help of a magnetic compatible (stainless steel / cast iron plate). But this will damage the heating element of the induction stovetop and increase the cost budget of energy consumption.
You won't be able to enjoy the capabilities of a commercial induction wok hob without using the right magnetic cookware. This restriction on cookware usage makes most users prefer to stick with gas stove burners, which allow them to use any flammable cookware.
Related reading: Buying induction cookware–tips for 2022
Expensive
Most commercial induction stove utensils are cheap and not very expensive. But it is also true that some of them are very expensive. So, good-quality products with great features are expensive that price can put off some potential buyers.
Commercial induction burner cooktops are considered by many to be very expensive compared to relatively inexpensive gas cooktops. The average homeowner believes that commercial top induction cooktops are expensive to own and maintain. It is true. You can't deny the fact that some cookers were expensive.
Compared with the simple heating elements and product structure of gas stoves/electric stoves, commercial induction stoves incorporate many elements that are beneficial to reducing costs and improving heating efficiency.
Such as knobs that can control temperature/time, preset menus, and heating process visualization, 90% to 95% thermal efficiency; these advantages require high-quality but expensive components to complete.
What is even more surprising is that? After the blessing of high-quality components and the pre-sales guarantee of countless tests, the probability of failure/repair/risk of gas explosion during the use of the electric induction cooktop is small. It means that you do not need to pay for excess appliance repair bills, not like fragile gas/electric stoves.
Whether you agree or not, research shows that, on average, buyers were put off when faced with high prices for products they didn't know about it. Commercial induction cooktop bunnings is that hasn't been embraced by many people around the world. It makes it difficult to get into the kitchen.
Hesitation and fear
Ordinary Americans are somewhat resistant to change. They should keep using the old gas stove burner to serve you, rather than trying some newer commercial induction cooktop stove that they misunderstand how works.
Don't know how induction stove cookers work? And reluctant to understand how it works? Are they hesitant to choose whether to switch from gas to induction cooktop plates, a switch that 50% of Americans have never made?
Even if you don't know it, dare to try the efficient charm of an induction stove. It is a Sensible change that commercial induction stoves have been incorporated into kitchen equipment shopping lists by many restaurateurs/canteen leaders/dealers. They provide a sustainable source of profit and cost recovery for their catering.
Related reading: Learn how induction cooktops work
Commercial induction cooktops look like electric cooktops
This reason may seem far-fetched, but you would be surprised by how real it is. Gas stovetops are still prepared for commercial induction cooktop bunnings. Most commercial induction burner cooktops look like electric ones and are generally considered a no-no for kitchen users. Electric stoves have several obvious drawbacks, ranging from operational risks, difficulty to use, to fear of the operation.
Most Americans would rather stick with the gas hob they use. Commercial induction cookers are stylish these days, but unfortunately, this makes them look like traditional rice cookers, and to the untrained eye – they are the same.
When you look at two induction range cooktops from a distance, you might think they are the same. It is the only reason commercial electric induction cooktops are out of luck when users go shopping for a new commercial cooker and end up choosing a gas stovetop. It's just an unfortunate setup, but that's what happens with commercial induction cooktops.
Bad marketing
Despite their performance and productivity, commercial induction cooktop stoves have been poorly marketed in recent years. Many things may indeed have robbed it of its shine since its inception, but it's also safe to say that its marketing strategy has been poor. Most of its sales are in parts of Asia and Europe.
It hasn't hit the European market in a way that should have sent its sales and acceptance soaring. Recently, many of the other factors listed above are also driving down purchases by both retailers and wholesalers.
When asked to choose between an induction hob cooker and a gas stovetop, it can be difficult to convince a buyer to choose an induction cooktop, especially when faced with all the reasons above.
Energy issues
It is undeniable that even regions such as Asia and Europe, have a high acceptance and utilization rate of commercial induction cooktops. It is unable to convince countries/regions with abundant gas/natural gas to choose to buy induction range cookers.
For them, the gas stove is the energy source, and the gas consumption cost is lower than the electricity bill when the induction stove is used, which is a background of energy use that can't be ignored.
Even an efficient, safe, non-flammable induction stove will not waste excess heat like a gas stove (it is hard to control the appropriate cooking temperature and the size of the burning flame). But would directly release heat to the pot and internalize it. The heating reaction rejects the loss of heat.
However, the high price of electricity makes them withdraw from the induction stove with multiple advantages. Instead, choose a gas stove that matches their usage habits and has a deep understanding of it.
Final conclusion
Fortunately, problems such as gas leakage/explosion/oil fume pollution are caused by gas stoves. It has prompted the catering industry to gradually tend to the induction wok hob, which is environmentally friendly, safe, and free of open flames in the selection of kitchen equipment. Cooking plates frequently appear on the shelves of catering kitchenware stores.