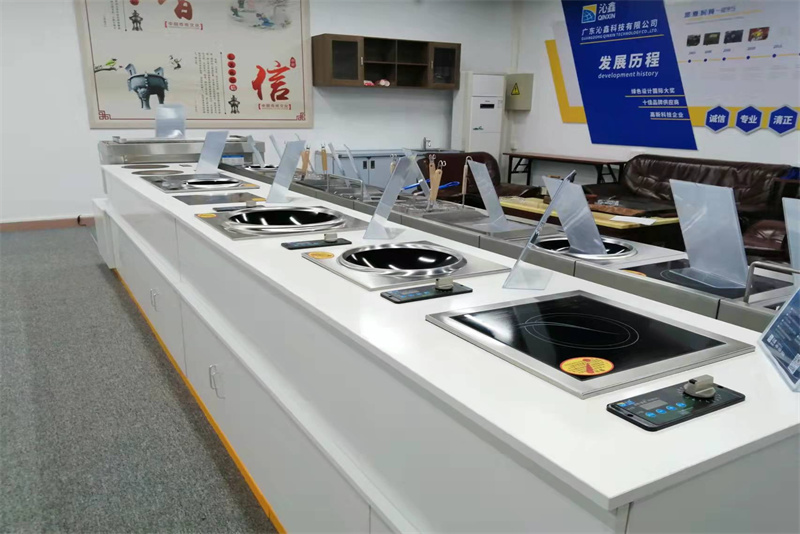 Why buy induction stoves from commercial kitchen equipment manufacturers?
If you are looking for commercial induction ranges for your restaurant/catering, Is choosing to buy food machinery from commercial kitchen equipment manufacturers or catering equipment wholesalers? It will be a difficult choice.
How do distinguish products from commercial kitchen equipment manufacturers or food equipment distributors?
Food equipment distributors refer to independent operating institutions that purchase all products/services/brands from manufacturers, have the right to use/sell products, and obtain profits through channels such as manufacturer discounts/product sales.

Agents refer to manufacturers who require them to sell the company's products through employment. The sales and operation of products are restricted and guided by the manufacturer.

A trader refers to an intermediary company that sends an order to the catering equipment manufacturer after receiving your purchase order and earns you the price difference/factory commission of sale equipment.

Kitchen equipment manufacturer refers to a manufacturer with independent production/sales/operation rights and an independent factory/R&D team/after-sales department/sales team. Allows providing the best wholesale prices and all-day after-sales service.
Restaurant cooker supplier has independent factories
Commercial induction ranges of stainless steel material cutting, machine welding, product assembly, accessories production, and product testing can be live video.

The production of commercial induction ranges is automated & standardized through an automatic cutting machine/automatic bending machine/automatic welding machine and other equipment.

Have an independent workshop for independent production/operation and can undertake OEM/ODM services for large-scale products

The catering equipment has undergone thousands of tests (including function/appearance/components/heating time) before shipment. The product quality can be traced.
Commercial cooker supplier has professional R&D
The professional R&D team of induction heating technology supports independent R&D of special voltage/function/appearance/multi-purpose. Each piece of equipment is guaranteed by an R&D engineer.

Continue to develop innovative/multi-functional new induction cooking equipment, provide professional answers to maintenance failures, and free industry technical services.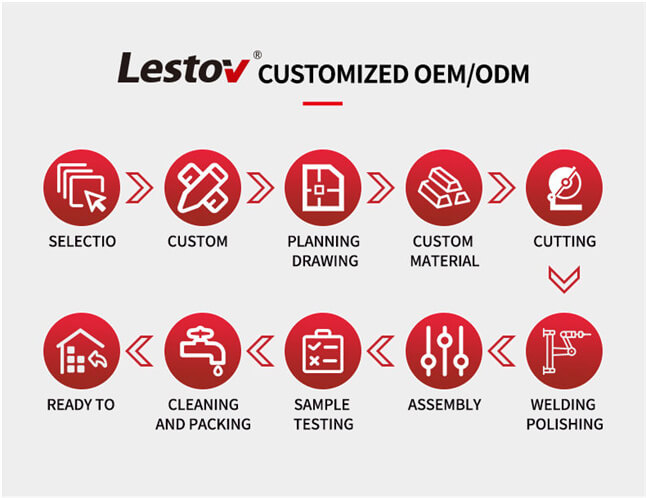 Commercial cooker manufacturers support customers
Custom from product appearance/function/model/material/multi-burner/full range of cooking equipment/Logo.

Get commercial induction ranges produced by professional food processing equipment manufacturers at wholesale prices. You only need to change your Logo (OEM/OD service) without setting up an industrial kitchen equipment factory.
The commercial cooker manufacturer has competed in after-sale service
Lestov commercial induction cooker manufacturer has separate after-sales service departments in 34 provinces in China.

Commercial induction ranges experts provide professional/accurate/all-around guarantees (accessories/technical free counseling/video).

Commercial catering equipment supplier provides the cheapest price

Buy products from commercial catering equipment suppliers at factory cost price, reduce the difference in price/raw material/dealer's profit increased by traders.

Direct trade with a Commercial catering equipment supplier, you can get the best discount, and provide matching accessories such as cookware/surface sieve/drain valve for free.
Commercial cooker suppliers provide the full range of cooking machine
Hospitality equipment suppliers provide more than 30 kinds of the full range of commercial kitchen cooking equipment, covering stir-frying/frying/grilling/boiling/steaming/baking, commercial refrigerators/range hoods, independent/countertop/built-in, etc.

Set up an independent kitchen engineering department to provide professional/accurate commercial kitchen design/equipment procurement/fixed-point after-sales.

Support one-stop procurement (full product quality/price/after-sales guarantee) and provide convenient/low-price purchase services.
Why choose restaurant cooking equipment suppliers from China?
As the only major manufacturing country to achieve positive economic growth in 2021, China provides a stable/high-quality/low-price supply chain to dealers/importers. It means you get a stable/long-term supply/quality source of restaurant cooking equipment.

After 18 years of promotion/application/R&D/innovation in China, commercial induction cooking equipment has reached a professional/high-quality development/perfect production process. It means you get a quality/reliable/professional catering induction cooktop.

China promotes the prosperity and stability of international trade with "tariff reduction and exemption in some countries"/developed logistics and transportation. It means could get food and beverage cooking equipment from the manufacturer at the lowest tariffs and the best shipping prices.

From Alibaba, Made-in-China.com, and office manufacturer websites, China has built a diversified/multi-choice shopping platform to provide you with detailed/professional/accurate shopping services. It means that you can complete the high-quality service of product browsing/manufacturer verification/price comparison through the Internet.
Lestov commercial cooking equipment manufacturer
As the preferred manufacturer of government projects/canteens, school kitchen engineering updates/and catering chain brands, it has provided CE-certified restaurant cooking equipment to kitchen equipment dealers/engineers in more than 50 countries.

It is a pioneer in China's commercial catering cooking equipment industry, with 20 years of independent R&D/design/production/after-sales experience, and has held & sponsored exhibitions/cooking competitions many times.

Provide a full range of restaurant cooking equipment procurement, support customized product appearance, function, multi-purpose, OEM+ODM service.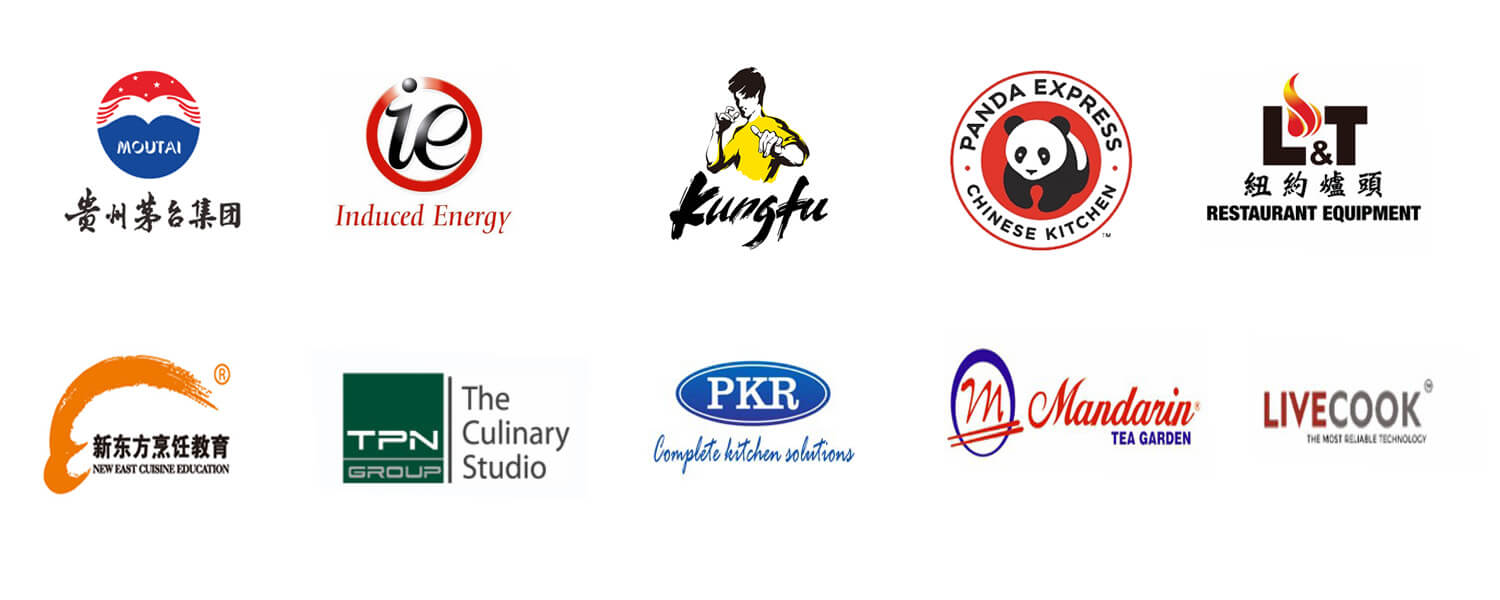 Dealer offers from Lestov commercial cooker manufacturer
It assists you to develop the local commercial catering equipment market – technical/sales/operational support.

Supply of a full range of restaurant food service equipment/private customization/all-day after-sales service.

Hold the catering industry dealer conference every year–industry technical exchange/local customer resource sharing.

Provide product catalogs/signs/marketing posters/product pictures and videos.

Get a full range of cooking equipment/accessories/free technical training at wholesale prices from Lestov.