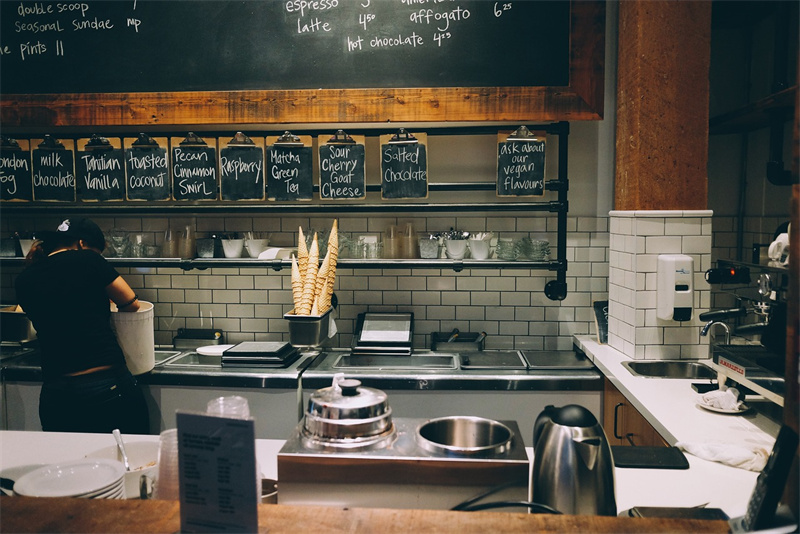 Reliable countertop commercial induction cooker – Manufacturer's Tips
It is not easy to place a full range of restaurant cooking equipment in a small commercial kitchen. The compact space only allows for small-volume commercial stoves such as a countertop or built-in type.
Therefore, restaurateurs put forward strict conditions for commercial stoves, such as small size, large capacity, multi-purpose and affordable price. They expect the stove to cook everything on the menu, whether it's curries, French fries, or steamed dim sum.
In small commercial kitchens, 3500w or 5000w tabletop restaurant stoves get more purchases. They have enough commercial power to make meals for 30 to 45 people with the support of a 10-pound cooking capacity.
The countertop commercial stove can be embedded into the cabinet to increase kitchen space. This feature is to be expected for a compact restaurant.
Tips from Some Commercial Stove Manufacturers
Manufacturers of commercial cooktops have designed separate countertop models for each cooking mode, from countertop deep fryers, stir fryers, pasta boilers, and steamer cookers. They can be portable outdoors if you have enough electricity or a generator. With a sufficient budget, many restaurateurs prefer to purchase professional countertop stoves for commercial kitchens to obtain high-quality cooking results.
For example, purchase a tabletop commercial deep fryer to fry crispy and fragrant French fries and chicken wings.
Some manufacturers design all-in-one cooktops (comprising fryers, pasta cookers, and soup stoves) to accommodate a full range of cooking equipment in a compact kitchen.
Deciding to purchase a tabletop restaurant stove requires multiple considerations, whether it is from the manufacturer, type of stove, price, and features, it will be a lengthy negotiation process. In this regard, Lestov Commercial Induction Stove Manufacturer will list the types, prices, and functions of tabletop restaurant stoves to help you simplify the purchasing process and get high-quality restaurant cooking equipment.
Is the household induction cooker equal to the countertop commercial induction cooker?
Types of Countertop Commercial Stoves
Some models of Countertop commercial stoves
Some commercial stoves placed on stainless steel cooktops occupy a small amount of kitchen space but can undertake the task of large-capacity cooking. Four non-slip stove feet help it stand on wet cooktops, and it is lightweight for easy portability to other places.
Other commercial stoves that are built into cabinets or walls fit snugly against the wall so that no oil or water droplets can seep inside the machine. Twin-turbo cooling fans keep the inside of the cabinet cool.
Whether built-in or tabletop commercial stoves, they are surprisingly space-saving, multi-purpose, and tidy. That's why restaurateurs choose them.
Some commercial countertop stoves specially designed for different cooking modes are helping restaurateurs to prepare standard-tasting food. For example, countertop commercial deep fryers for frying French fries and turkey. A tabletop commercial noodle cooker for cooking pasta and vegetables.
Reliable countertop Commercial Induction Cooker - Manufacturer's Recommendations
Tabletop Restaurant Induction Wok Cooker
The tabletop commercial induction wok cooker is a favorite in Asian restaurants. It has a fascinating twist on stir-frying traditional Chinese dishes. The circular heating area conforms to the surface of the iron pan to promote even heating of food particles.
Each button is linked to a different cooking mode, such as from a low-power stew to a high-power stir fry. Its timing range from 1 to 180 minutes can be preset in advance, and the small display will show the working status of the commercial induction wok cooker.

Glass-ceramic Chemical corrosion resistance, wear resistance, and good thermal stability, which is resistant to 125KG and 800 °C.

The 400mm Chinese-style iron wok that can be heated in all directions makes 8.7L of food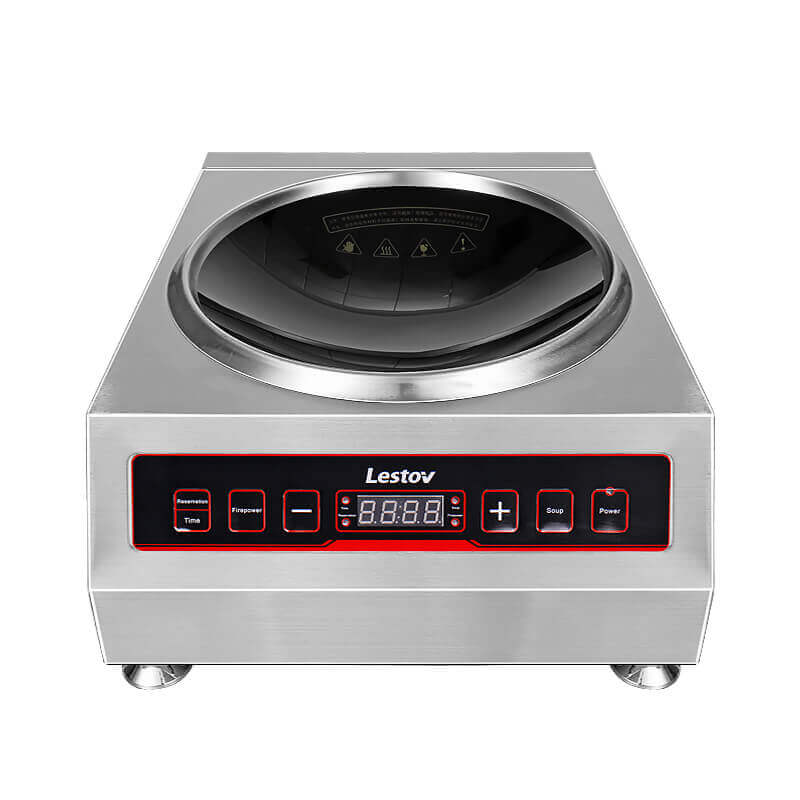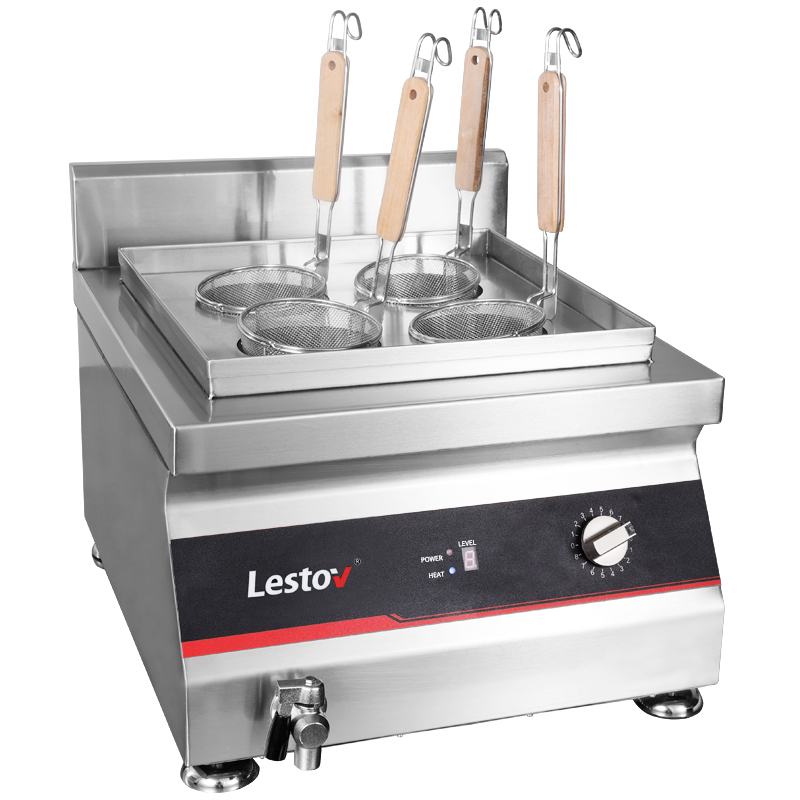 Tabletop Restaurant Induction Wok Cooker
Four independent pasta cooking zones can cook four kinds of food, such as pasta, vegetables, or meat. The 13*13 inches water tank can hold 4 gallons of soup so that it can soak all the pasta.
The stainless steel filter screen at the bottom can isolate large particles of food residue, and the connection to the drain valve can directly discharge wastewater. Induction heating provides instant, steady, 95% heating to the soup pot, keeping the soup simmering at all times.
Made of stainless steel, it runs stably in humid/hot kitchens and is easy to clean/repair/assemble.
Double-layer energy-gathering copper wire reel, German Infineon IGBT, and self-developed PCB board run for 3000 hours.
Food Truck Induction Flat-top Griddle
Countertop commercial induction griddles are commonly found in food trucks. The smooth grill top and the unique rib grill panel add more charred flavor to the steak.
The Omron thermostat can adjust the temperature of the 18mm thick grilling iron plate with an accuracy of ±1°C, and the energy-concentrating copper coil ensures that every area has a consistent temperature.
Front grease trough with grease drawer brings you much convenience to cleaning tasks.
360-degree knob switch can control eight firepower settings to make operation simple.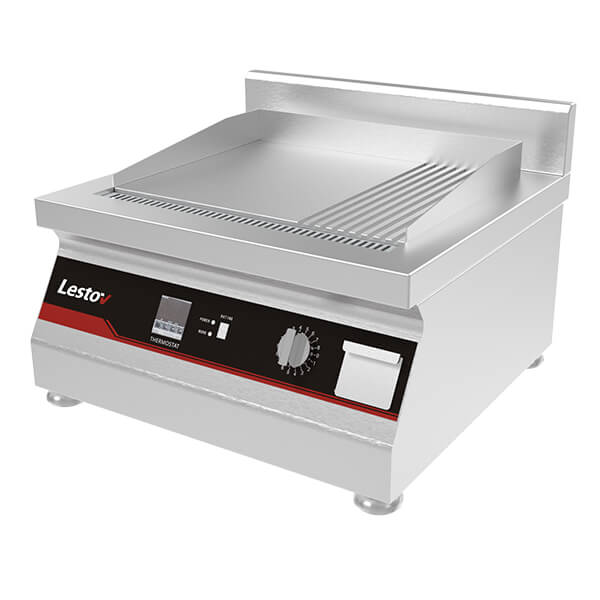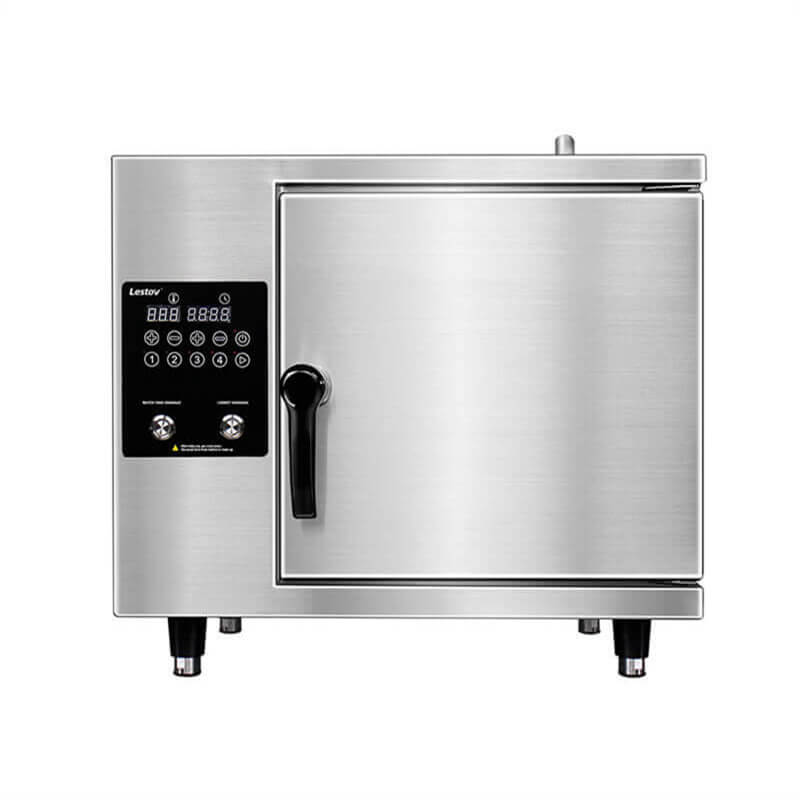 4 Tiers Commercial Induction Steamer Cooker
This small commercial induction steamer cooker with four layers of detachable steaming trays. It has a large capacity and even steaming ability for steaming buns, dim sum, and soup.
Four sets of preset menus can store the heating power, time, and temperature of different foods, and the menus are editable. You can instantly discharge wastewater from the steam oven or water tank at the push of a button.
The fast-heating commercial food steamer produces steam within 5 minutes of cold water.
A commercial steamer cooker helps you to perform secondary heating, and the furnace temperature reaches 110 ℃.
Special offers from the manufacturer of commercial induction hobs from Lestov
Lestov, a commercial induction cooker manufacturer with an independent factory, R&D department, and sales team has 20 years of experience in designing, producing, and selling a full range of countertop commercial induction cookers.
Lestov countertop commercial induction cooker has been sold to more than 50 countries and regions and has obtained a CE certificate. Currently, Lestov manufacturer is running a special promotion, selling tabletop commercial induction hobs at factory-wholesale prices.
It is an opportunity not to be missed, especially for compact commercial kitchens, that will save the budget and get quality restaurant cooking equipment. Please contact us for a free quote.