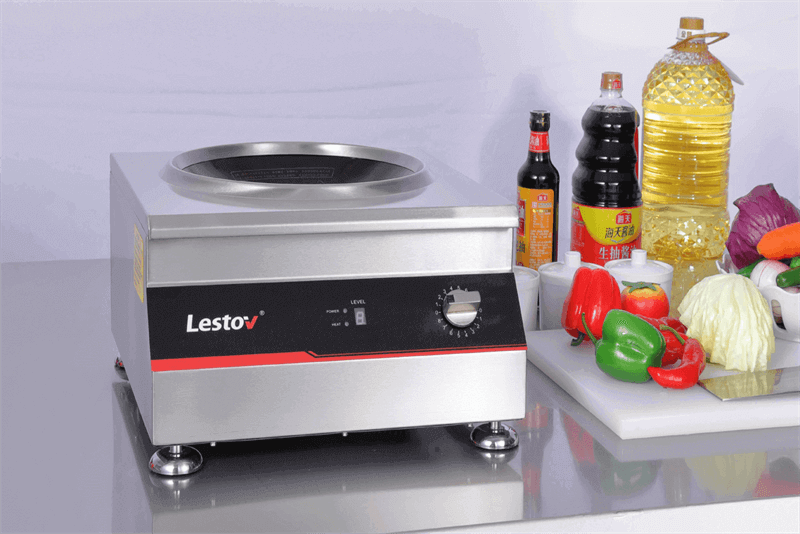 Important tips for buying commercial induction wok cooker-2023
You may be surprised that the Chinese induction wok cooker in Asian restaurants can 360° evenly burning food. That is the perfect presentation of the round bottom wok and flat bottom wok when they after combining the most advanced induction technology with Chinese cooking skills.
Lestov from Chinese woks station is a commercial induction wok burner manufacturer that provides chefs with professional cooking equipment such as stir-frying dishes and deep-frying food.
What are commercial induction wok burners?
Commercial induction wok burners with a round or flat bottom wok. It can give food evenly and sufficient heating, which is suitable for Asian restaurants, hotels, and canteens.
The commercial induction wok burner is with ring, lid, cover, and handle used to shake food during cooking. Although commercial induction wok burner usually uses stainless steel, it also has restaurant induction wok cookers for sale are made of cast iron, iron, nonstick, and aluminum.
Types of commercial induction wok cookers
The commercial induction wok cooker has a traditional round bottom that meets the pursuit of uniform heating in all directions and full heat for Chinese dishes. And flat-bottom frying wok pans that meet modern restaurant or kitchen applications.
Induction wok burner is not limited to countertop wok cookers used in kitchens such as food trucks, and compact restaurants. It also has commercial sizes such as large or extra large wok cookers that satisfy 30-300 people or more.
If you are looking for a commercial induction wok burner for fast-food, hospitals, and restaurants, these large commercial induction wok burners can cook 23L to 180L of food on single wok burner /double burners even 3 wok burners at the same time.
Flat bottom wok cooker VS round cooker wok burner
It is difficult for you to choose which is the best commercial induction wok burner on flat-bottom wok cookers VS round wok burners. They also have an almost perfect performance in stir-frying dishes, deep-frying chips, and melting sauces.
The Lestov commercial induction wok burner manufacturer has made high-conductivity ceramic glass heating ranges for round or flat-bottom wok burners. Almost all food and seasoning particles can get the same heat.
You can easily control the movement of the commercial induction wok burner through the handle. The long-lasting constant temperature function coincides with the idea of Chinese chefs who love tossing pots.
If you are trying to grill steaks, boil pasta, or melt sauces. The commercial induction flat-top wok cooker is a good choice. Commercial induction wok burner stores add a flat sensing area with 95% thermal conductivity to the cookware, to save more cost and energy.
Related Reading: Buying an Induction Cooker-Tips for 2021
How to choose commercial induction wok stoves?
When you choose induction wok stoves, commercial Chinese wok range manufacturers will provide you with a variety of types of options. In the case that you don't know about induction wok stoves, this will be a difficult consideration.
Lestov only needs you to choose between the home/commercial grade and the number of diners, to help you buy the commercial induction wok stove that fully meets your needs more quickly.
Lestov provides commercial induction wok burners for compact restaurants, similar to countertop induction wok burners.
This countertop restaurant induction wok burner can cook with a capacity of 8.4L and has 360° evenly heating. When the voltage permits, It could use in compact kitchens and even homes.
The freestanding commercial induction wok range is specially designed for commercial kitchens such as catering, industry, and canteens. If your restaurant has 30-500 people, this large commercial induction wok burner is worth trying.
To present the most perfect use effect and the longest service life (3000 hours). The industrial induction wok stove adopts thick stainless steel round bottom woks, achieving low noise below 45db and an IPX4 waterproof rating.
From the perspective of professional design solutions, a giant commercial induction wok cooker applies Germany's leading IGBT-Infineon, which has an accuracy of ±1, to achieve fast conversion and precise control of the cooking power of each food.
Commercial Induction wok stoves for sale
Commercial Countertop Induction Wok Ranges
The hot sale small wok with a lid comes from the Chinese wok station brand-Lestov. The induction round wok cookers release 95% of the heat energy to the cookware, which is more efficient and the best induction wok.
Why not get high-quality reviews and an efficient induction wok burner at the most affordable price and shop now?
Chinese Wok Station Commercial Induction Wok Cooker
This extra-large deep wok with a cooking capacity of 40L can clearly see the power, time, firepower, and fault prompts of the wok during burning food through the intelligent display
This Chinese commercial wok burner combined with induction technology (up to 95% thermal efficiency) can achieve precise control of the cooking power of food in 8 gears. This commercial induction wok stove burner is ideal for stir-frying dishes or stews, frying, and steaming.
Double Wok Burners Commercial Induction cooktops
This commercial induction wok burner has double ceramic round bottom wok pans that can cook two kinds of 17.5 liters of food at the same time.
4.5mm thick thermally conductive black crystal glass can withstand 800℃ high temperature and achieve 95% thermal efficiency for you.
Get the best commercial induction wok stoves at the factory's direct price in wok station-Lestov.